Aspiring Travel Writers Wanted
---
Dear Reader,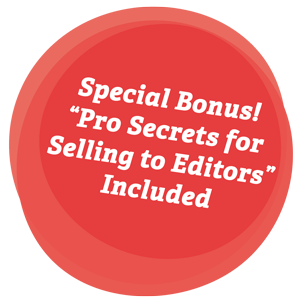 Imagine vacationing for a week on a Caribbean island, but instead of staying in a standard hotel, you're in a villa built on stilts out over the ocean.
You're perched above blue water so clear you can see straight down to the white-sand bottom where starfish the size of basketballs lay and orange, yellow and green fish dart by in schools, sparkling in the sun.
You spend your afternoon in a handmade hammock on the deck.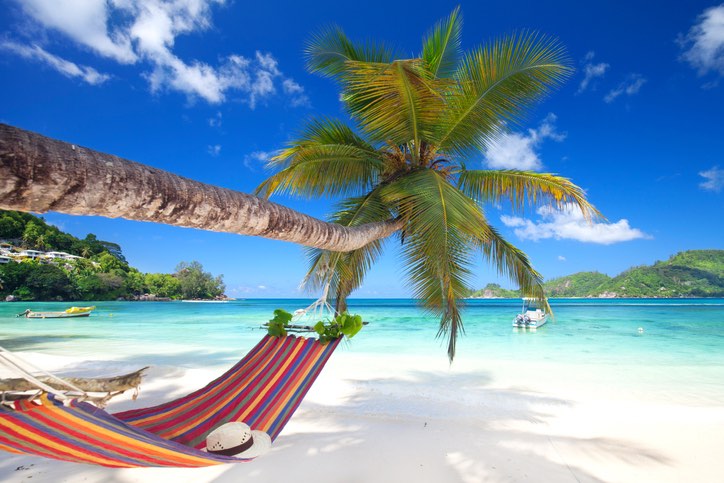 Tomorrow's itinerary includes a boat trip, snorkeling, diving for rock lobster, then grilling the catch oceanside.
Or maybe a visit to a place like Ireland would be more your speed—where you could walk along the high green cliffs, enjoy a pint in the back courtyard of a 200-year-old pub, maybe dive into your family's history if you (like so many Americans) have an ancestor from the Emerald Isle.
You could buy a gorgeous hand-knit scarf from a shop whose front is awash in summer blossoms or catch a concert in the park at the base of a staid castle on a hill.
Perhaps you're itching for an Old World city fix.
You could go to Paris and dine at sidewalk cafes where red geraneums tumble from window boxes...
...head to Madrid and wander the halls of the Prado Museum or take a row boat out in the lake at Retiro Park...
...stroll along the river in Prague, stopping to listen to the buskers on Charles Bridge... or take a trip to Portugal and eat heaven-sent pastries and cakes in Lisbon.
Then again, for the moment, you might stay closer to home and visit a state park to go hiking or take a weekend getaway within a few hours' drive and enjoy a relaxing escape in a little town you've been meaning to explore.
You could try camping in a National Park or learn to fly fish or take a canoe out on a reservoir...
Whatever your travel fantasy may be, let me say:
It could get EVEN BETTER...
Imagine getting paid to tell people about your experiences and recommendations, showing folks the best ways to follow in your footsteps.
You could enjoy all the fun that comes with travel, plus all the prestige that comes with seeing your name in print at the top of a page.
You may not realize it, but you don't need a degree in writing or a background as a journalist to find success as a travel writer today.
I'd like to show you how—with no prior experience—you could effectively get paid to travel, start seeing your name in print and in online publications, and even get invited to take advantage of great travel perks, from on-the-house meals, to free museum tours, to complimentary vacations.
If you like the idea of turning your love of travel into stories you sell and if the prospect of enjoying VIP travel perks sounds good to you—then stick with me here.
Because you're a lot closer to that life than you probably imagine.
I'm going to explain how travel writers get paid, what a typical day might look like in a travel writer's life, and how—even if you've never written anything before—you could (in a very straightforward, stepwise way) transform yourself into a successful travel writer and put yourself in line for the great benefits that lifestyle can deliver.
Doesn't matter if your background is in accounting, architecture, teaching, engineering, sales, or anything in between.
If you like to travel, and you like the idea of helping others travel better, then you can do this.
Now, let me say first that I realize travel may not be in your cards for a little while yet. Even with the vaccine rollout underway, lots of experiences are on hold and borders are closed.
But, rest assured: Planes will fly again, and foreign shores will beckon.
And if you've discovered the tricks of the trade—which I'd like to show you—then when all this madness passes, you could find yourself enjoying the adventures of a lifetime, and getting paid for it, too. Even traveling on somebody elses's dime.
Now's the perfect time to find out how to do it—and get yourself launched—and I'd like to show you how here today. Let me explain...
The Golden Age of the Local Travel Writer:
Timing is Great Right Now
Right now is the perfect time to get started. Yes, I realize that may sound counter-intuitive as we find ourselves cooling our heels in the midst of a pandemic. But hear me out. Travel is starting to open up again, and publications want on-the-ground content from writers who know the areas they're writing about.
We're entering The Golden Age of the Local Travel Writer. With travel still relatively difficult, editors are increasingly turning to people who live in a place to source content about that destination. As a "local," you're the perfect person to produce it.
You know things about where you live that somebody passing through doesn't, and that insider knowledge is more valuable than ever.
Writing about where you are now—helping travelers come experience a place you know well—that's an ideal way to get started as a travel writer. And we can show you exactly how.
Writing about where you live allows you to begin earning from home in as quickly as a handful of weeks—depending on how much effort you put in. And it allows you to start paving the way to your travel-writing success now, from right there in your living room.
Get a few stories under your belt about places near where you live—and you gain confidence, experience, income, and, importantly, a real track record of success. That puts you in an ideal position to start traveling to and writing about places farther afield just as soon as the world really opens up again.
And it's the perfect way to put yourself at the head of the line for the sort of travel perks successful writers can cash in on.
Even better: You can give travel writing a try very easily—no experience necessary. With a few key pointers under your belt, you can take the travel writer's life for a spin. And—like so many people who've gone before you—I'm willing to bet you'll be surprised at how much fun you'll have along the way.
Travel writers who know the drill are regularly wined and dined. The rationale is simple: The more articles are written about a place, the more tourists are likely to go there. And so restaurants, tourist attractions, cruise lines, tourist boards, hotels, airlines, tour companies, and more regularly invite travel writers to experience what they have to offer (at a reduced rate or even at no charge), in the hope that those travel writers will write stories that entice readers to come.
The "system" isn't complicated, but it helps to have a guide to show you the ropes. And that's what we can give you. It's the best way to accelerate your success. We'll show you how it's all done—the formulas you need to write stories that sell, to the best strategies for actually selling them, to the savvy tricks you need to ask for perks on-the-house.
Plus, we'll give you an "in" at a publication where you could get your first byline, too! It you like the idea of trying on travel writing for size, there's no better way to get started than right here...
Enjoy the Perks of Traveling the World as a VIP…
When you explore the world as a travel writer—it really can feel like you're being treated as a VIP.
Meals, museum tickets, hotel upgrades, they could all be on the house. When you're an established travel writer, it's not unusual to have someone else foot the bill.
One travel writer I know has had travel writing assignments that took her to Ireland, Paris, Fiji, and beyond.
Another to go exploring and wine tasting in Ensenada on Mexico's Baja, California Peninsula.
And another spent a week golfing in the Turks and Caicos islands.
You Could Land Trips Like These, Too
To land trips like these—sometimes all-expenses-paid—is a lot more straightforward than you probably imagine.
As one successful travel writer who discovered travel writing here with us put it:
"If you'd told me even three years ago I'd be jetting around the globe on someone else's dime – staying at a high-end oceanfront villa in Riviera Maya, Mexico…lounging for free at a luxury beach resort in an oceanfront suite valued at over $1350 a night... exploring Italy's Amalfi coast… even designing my own trips and having publishers clamoring to pay for them…

"…I'd have said you were dreaming.

"Back then, I didn't even know this opportunity existed. I was just wrapping up my [first] career wondering what I was going to do with myself in retirement.

Yet here I am today with more than 600 articles accepted for publication and an in-box full of new opportunities I can take advantage of."
Travel writing—when you break it down to its fundamentals—isn't that complicated.
Really. I'm not just saying that.
You have to keep good notes about where you went and what you did. And then you write an article sharing your recommendations and opinions about your experience—good or bad—with others who are interested in going there.
(And hear me out: That article can be A LOT more simple than you probably think.)
These days, it's that very practical guidance that sells.
People want to hear from folks who have clearly been to a place and have not just facts to report, but insights about what to do with them.
There's so much content on the Internet, this hotel has X number of rooms, that experience costs Y dollars. But more useful for the reader is your judgement—what you recommend a person do (and how) and what isn't worth the investment?
If you're ready to share on-the-ground intelligence like that—you could turn it into income from articles and on-the-house travel invitations, too.
You might be asking how that could be. How could taking notes about all the fun things you're doing actually fund your trips?
It works, because one of the ways travel-related businesses advertise is by inviting travel writers to experience (often for free) what they have to offer—maybe a tour, cruise, special event, or resort package—in hopes that you'll have positive experiences and write favorable articles in magazines, newspapers, newsletters, or online.
The more articles written about a place, the rationale goes, the more tourists will go there.
And more tourists means more money.
And believe me, when this travel ban is lifted, hotels, restaurants, and tourist attractions will need more travel writers than ever to get tourists back in their doors.
And the truth is, you don't need to be a gifted writer. You don't need journalism courses. You don't need a job in the travel industry. You don't even need to travel—your hometown is a travel destination for somebody. And it's an ideal place to start.
As a Travel Writer, You Can Enjoy VIP Perks

"I killed it [on assignment] with wine & chocolate pairing, organic coffee roasting tour, personal gold mine tour, lunch with the president of a historical society, horse & buggy tour and more....all complimentary due to commissioned articles. To boot, the winery gave us 2 bottles of their best vintage vino, free dinner at their restaurant, a pound of the best coffee I've ever tasted (sorry, Starbucks) and more perks." – N.K.
A Day in the Life of a Travel Writer
Now, before you decide if travel writing is for you—or not—consider what a typical day for you might look like should you decide to give it a try…
Over the last two decades, I've been a travel writer and editor, and I've had the opportunity to personally get to know travel writers like N.K. (quoted there above).
Through my own experiences—and in talking with these writers—I can say with confidence that there really is no "typical" day.
For many, that's one of the most attractive things about being a travel writer.
Let's take a look at an example.
She Turned a Love of Chocolate…
Into Paid Assignments
Take Terri M, for instance.
Terri is a self-proclaimed chocoholic—and a lot of her travel articles revolve around chocolate—chocolate martinis, chocolate spa treatments, chocolate tastings, etc.
She's a great example of how travel writing can allow you combine two passions, in Terri's case, traveling and chocolate.
Terri was a tax accountant before becoming a travel writer. She was definitely one of those creative people trapped in a desk job—a story we hear all too often.
But today she knows first hand that a travel writing "dream job" is achievable.
One of my favorite stories from Terri is when Ben and Jerry's Ice Cream flew her to Vermont to tour their headquarters, sample the ice cream, and create her own flavor.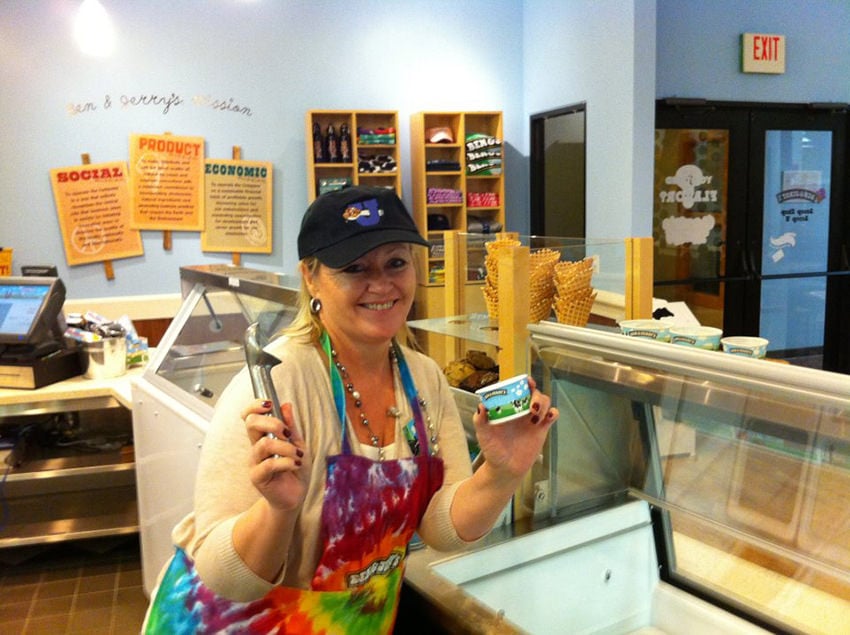 Also, in 2014, Terri took two trips to the Hotel Hershey where she visited The Chocolate Spa for delicious cocoa facials, body wraps, and massages that she later wrote about.
On another trip, she headed down to the little-known "Toledo" district of Belize to discover the source of something wonderful… chocolate.
There she harvested cacao, made her own chocolate bars, swam through caves, climbed up waterfalls, and went horseback riding through the jungle. And that's just a small snapshot of her adventures over the years
Pre-pandemic, she spent time sailing the Mediterranean Sea aboard the world's largest clipper ship, road tipped through Germany exploring enchanted forests and castles, and fished for piranha in the Peruvian Amazon.
And all along the way, she scribbled stories about her experiences—and sold them.
Even mid-pandemic, she's put her byline on all kinds of travel stories—exactly the sort of thing you, too, could write...
Extended Family Vacation Ideas with Something for Everyone
Entertaining Grandkids at LEGOLAND Resort Florida
Black History Month: A Time for Education and Celebration
Detroit's Motown Museum Is a Must-See for Music Lovers
Remember: Terri was working as a tax accountant before she discovered the secrets of travel writing. Those secrets really have opened up to her a world of possibility.
And they could do the same for you.
There's a Real—and Growing—Need for Travel Content
A genuine need exists for engaging, reliable travel content. And with the pandemic's end on the horizon, that need is about to be greater than ever.
As Travel Pulse reports, "The renewed sense that travel is a privilege, rather than a given, has travelers ready to spring at the first opportunity" to go, to get out there, to explore.
Results of a recent travel survey reveal that 65% of respondents plan to travel more when the pandemic wanes than they did pre-COVID, 82% of families already have travel plans for 2021.
And these travelers are going to want—and need—guidance.
Thousands of publications exist today, poised to deliver it. Some are in print, some are online, some are in the US, and others are in Canada, New Zealand, Australia, the UK, South Africa. And that's just in the English-speaking world.
Plus plenty of publications that aren't devoted strictly to travel, nevertheless publish travel stories—from food-and-wine magazines to daily newspapers to publications as diverse as Phoenix Magazine or Nomadic Knits.
Point is: You have lots of excellent options when it comes to placing your travel stories. The demand is there—it's up to you to meet it.
But the good news is that you can do that in all sorts of ways.
You don't have to be a born writer to be successful as a travel writer today.
The vast majority of content sold these days is relatively formuleaic, to be honest. It's straightforward. It's laid out in plain English.
If you've ever jotted notes to a friend in an email after you returned home from a trip, recommending a spot to eat in and a place to stay, cautioning against the overpriced tourist attraction and suggesting, instead, a private tour given by a local expat...
Well, then, I assure you: You can do this. No experience necessary.
A Resource to Show You the Way, Step-by-Step
And when you do... you can put yourself in line for all sorts of wonderful travel experiences—and even perks. Travel writing opens up a world to you that the average Joe doesn't have access to.
But I'd like to give you the key.
You see, there's a simple, straightforward way for you to get all the secrets you need to break in and find success as a travel writer—no experience necessary.
It's through a resource called The Ultimate Travel Writer's Program.
And we have a VERY SPECIAL OFFER on the table for it.
Jennifer Stevens, Executive Editor at International Living, created this program as a way to launch new travel writers coming to this craft from other careers—and it works.
More than 11,000 folks have gone through the program over the years, and "graduates" have been published in all sorts of places—from their local newspapers to regional and national magazines, to online travel websites.
And, like Terri, they've cashed in on all sorts of incredible travel perks—from golf vacations in Spain on the house to private-island excursions in the Caribbean, all expenses paid.
My name is Declan Aylward, the editorial director here at Great Escape Publishing (we publish Jen's course, along with various get-paid-to-travel resources).
And I can tell you with confidence: No better resource exists to take you from where you are now—even if you've never written a word before—to being a confident, published, successful writer, ready to cash in on the sort of VIP perks established travel writers can enjoy.
Folks Who Learned to Be Travel Writers Right Here Have Been Published in a Huge Variety of Places:
| International Living | Rovology | Sport Diver |
| --- | --- | --- |
| AARP | Golf Vacations | Military Officer |
| Go Nomad | Europe Up Close | And many, many, many more... |
Because this program pulls back the curtain and shows you exactly what you need to do to break in, work smart, and (surprisingly fast when you put your mind to it) begin writing and selling stories. (You could have a byline in as few as a handful of weeks.)
And the program is presented from the point of view of an editor who understands, viscerally, what editors are really looking for.
So, throughout, you'll find it very practically focused on what to do first, second, third... and what not to do, too.
Jen puts it this way:
Meet Your Travel Writing Expert, Jen Stevens
Over the years, I've taught accountants, teachers, attorneys, coaches, nurses, and more to turn their curiosity about the world and their love of travel into a lifestyle that's rich with VIP experiences and full of the fun of meeting new people and exploring new places (even when those new places are right near home).
I'd like to show you how you could do it, too—no experience necessary.
Even now, while so many of us are still locked down, the folks who've put the secrets I've shown them to good use are still getting their articles published , seeing their names in print, and even cashing in on the kinds of perks most travel-lovers only dream of. (Yes, even now, in these crazy times—there are offers of hospitality to be had if you're a savvy travel writer).
Take K.D., who recently sold a piece about five hotels with remote-learning programs for kids.
Or consider S.K., whose piece about music-filled Memphis was published.
Then there's C.P. who wrote about a restaurant built into an old log home that dates from 1776, located on Main Street in a small town in Virginia. (She received a complimentary meal as part of a press trip that took her to there.)
All these guys are taking ideas, turning them into salable stories, and using those stories as the building blocks for their track records of success.
Tourist boards and others looking for publicity will see these published travel writers as folks who know how to get their stories on the street. And that makes them the kind of writers who get invitations to come experience places on the house.
All it takes is a handful of stories published, and you're off to the races. You just need to get started.
And that's what I'll help you do with the secrets I share in The Ultimate Travel Writer's Program.
And let me say, what these writers are doing—it's not rocket science. Ultimately, travel writing is formulaic. And what I give you in The Ultimate Travel Writer's Program is the formulas—not just for what to write and how to write it—but how to find and approach editors and how to land those coveted perks, too.
These guys who've gone before you, they aren't literary prodigies. They're just ordinary folks who had entire careers doing something else before and then learned the tricks of the travel writing trade.
Today they're practiced at coming up with story ideas likely to sell, writing them up with a basic level of competence, and putting them in the right editor's hands at the right time.
When it comes down to it, that's what you need to do to get published...and that (plus lots more) is what I'll show you in The Ultimate Travel Writer's Program.
I first created this resource two decades ago because, as the editor of International Living, would-be writers were constantly sending me stories, and these stories often fell into two distinct categories:
a) they had intelligence inside that I wanted to share with my readers, but they were poorly written—and I ended up mostly rewriting them. Or,
b) the writing wasn't actually half bad, but the topic was all wrong for my publication.
I used to sit at my desk and think to myself, "This is really not that hard to do—these people just need a roadmap. They need to understand what editors are looking for and how to talk to us."
So, finally, I sat down and I wrote that roadmap.
And I didn't share just my own secrets. I talked to lots of other editors, too, to find out what makes them crazy, and what they love to see, and what they wish more travel writers understood.
And I included their secrets in The Ultimate Travel Writer's Program, too.
All the Practical How-to You Need
to Succeed—No Experience Necessary
Inside The Ultimate Travel Writer's Program you'll find all sorts of practical secrets for success, like how to...
Write a four-sentence email that will put your name on the invite lists for gallery openings… private museum tours… resort galas… concerts… and more…
Easily combine your hobbies and interests with your passion for travel… and turn them into income-earners. It'll work with anything: scrapbooking, architecture, music, cooking, knitting, gambling, hunting, hiking, dancing, history… even bar-hopping…
Effectively get paid to dine at your favorite restaurants… visit your favorite haunts… and turn your insider knowledge of your hometown into checks that land in your mailbox…
Play the best golf courses and ski the hottest slopes. You needn't be Tiger Woods to find yourself walking on at Carnoustie… and you don't have to ski bumps like Bode Miller to spend a few charmed days in Vail… Find out how you could land a sweet deal for a fraction the usual rate, and possibly for no charge at all.
Discover the six key questions a seasoned travel writer always asks—and you're guaranteed to learn amazing and enlightening things about a place, things ordinary tourists almost never figure out.
Learn the six important habits to develop when you travel—all easy to master and fun and this time next year you could be enjoying an exotic, jet-set life full of travel and adventure.
Get the expert's list of what NOT to do (you'd be surprised at how many writers have no idea what makes editors crazy...).
Make writing easy. Learn how to get information to come right to you -- you'll never be at a loss for a story idea or the meaty content that will make writing a breeze.
And lots, lots more... from the no-fuss formula for your first article, to a fool-proof way to come up with story ideas every time...
The Ultimate Travel Writer's Program will show you how to look at the world through a writer's eyes… and turn what you see into observations you can sell. You don't need to be a gifted wordsmith to do this. You don't need a degree in English or in journalism.
In fact, you don't even need any formal writing experience at all.
If you simply enjoy a passion for travel, have a good eye for detail, and are willing to learn the simple secrets behind delivering a story in the way editors want it, you can succeed.
This program shows you how.
It takes an incredibly practical approach. Nothing inside is theoretical.
It's all geared to getting you writing, getting your stories published, and getting you to that place where you could be receiving offers of hospitality.
This Program Helps You Land Your First Paid Assignment
The Ultimate Travel Writer's Program is designed with your success in mind.
It's not theoretical or esoteric.
It's practical. And, in fact, Jen virtually "holds your hand" as you discover the strategies you need and steps you'll take to get from where you are right now to actually seeing your name in print at the top of a published article.
As you go through the program, Jen has you practice what you've just learned. And these "exercises," build on one another.
So by the time you're through the full program, you've actually done all the work you need to get yourself launched.
You've come up with a saleable idea, you've written a story, you've figured out where to send it, you've crafted a letter to an editor—and all you have left to do is send it in. And she shows you exactly how to do that, too.
So you're doing the steps that need doing as you go through the program.
From zero experience to launched. That's the goal. And that's what this program can do for you.
Plus, it comes with another perk built in, too. As I mentioned before, author Jen is the Executive Editor at International Living.
And that can give you a bit of a foot in the door when it comes to landing bylines there.
That's because a) the assigning editors are quite happy to work with new writers (if the story is right for them, they don't care if you're a well-established writer—or not.)
And b) Jen really does want her "protegees" to get published. And so she tells the folks taking her Ultimate Travel Writer's Program: "When you're pitching a story to International Living, let the editor know you've worked through this program. I can't guarantee you a byline there, but I can assure you that those editors will give your piece that extra bit of consideration."
In other words: You get a real foot in the door.
And, armed with the secrets you'll learn in The Ultimate Travel Writer's Program—you'll know what to do with your "in"!
International Living is a great place to get your first byline if you're interested in overseas travel.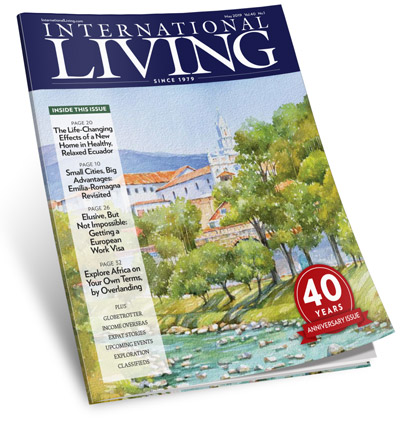 Not only could it end up home to your first published story, but it could get you your first paycheck, too.
In fact, International Living writes checks to the tune of an average $39,800 a month to writers for their stories. Point is: There's plenty of room for you.
Now, I'll be frank: You're not going to get rich quick as a travel writer.
Yes, there are travel writers earning $40,000 and $50,000 a year—and more. But I can tell you: Those writers are writing a lot, they're well-connected, and they're very good at what they do. You can be, too, mind you. And if that's your goal, then you'll have the tools you need to get there in The Ultimate Travel Weiter's Program.
But you don't have to work that hard to enjoy the perks of the travel writer's life.
Think about it this way:
You might earn $300 or $500 for a story—more if you bundle some photos with it. A very short piece of just a few paragraphs might pay you $50 or $100.
But, as I've mentioned before, compensation for travel writers can come in other ways. Once you've built a track record of success, you'll find you can put yourself in line for all sorts of travel perks.
To my mind, travel writing is really about improving your life. It's about seeing the world in a way ordinary tourists to do not.
Here what a typical scenario might look like for you as a budding travel writer—just for the sake of illustration:
Say you've decided to go someplace over a long weekend. You grab a cheap $150 flight and you're excited to get out and explore.
Because you're a travel writer, you've arranged ahead of time with the local tourist board for a free attractions pass. So you pay nothing to visit a couple museums and you get to take the local hop-on, hop-off bus at no charge.
A hotel you liked the look of online was happy to hear a travel writer would be coming and offered you more than 50% off your room rate. So, in the end, you stayed for a couple nights for a grand total of $160. A lovely gift basket with local goodies was waiting for you in the room—compliments of the manager.
You dine well all weekend—enjoying a dessert sampler on the house one evening when the restaurant owner learned you were a travel writer. Then the brewery down the block caught wind of your whereabouts and offered you a free tasting for the next day.
All told, you spend about $500 on your long weekend away. Well worth it for the great experiences.
But—because you're a travel writer—you then sell three stories, say, about your trip and you earn $700 for your recommendations and the guidance you share with readers.
So you've had a great weekend away—and you're $200 ahead of the game.
As I said: You're not getting rich. But you're having fun—and you're getting wined and dined and treated like a VIP. And you're enjoying the fun of seeing your travel advice—and your name—in print.
When you're a travel writer, you can get paid to do the things you'd gladly pay to do.
And you can become a travel writer—with The Ultimate Travel Writer's Program as your guide—no experience necessary.
The Perks of Living the Travel Writer's Life

"I have had free trips, tours, and fine-dining experiences. Cocktails watching Caribbean sunsets, feeding and learning how to handle giant stingrays that feel like silk on your fingertips, and being towed gently behind a boat exploring the only Pearl Farm in the Caribbean. These were all perks and complimentary experiences I've gained by living the travel writer's life."

- Bel W.
Discover Exactly What You Need to Land Your First Byline and See Your Name in Print
Jen lays out everything you need to know about becoming a published travel writer who gets paid to share stories about the world and even gets invited to experience new places on the house in The Ultimate Travel Writer's Program.
This is a program travel-enthusiasts like you have been using successfully since 2002 to turn their love of travel into stories that sell. It can help you, too, shave years off your learning curve and get your foot in the door at travel publications everywhere.
If you're intrigued, your next step is easy.
Just click the button below and fill in the online order form—by tomorrow, you'll have access to everything you need to succeed, all in one place.
Through The Ultimate Travel Writer's Program, we've been helping budding travel writers like you see the world in a whole new way—for nearly two decades. Like Richard, for instance, who sent us this note in 2009:
"After taking your Travel Writer's program and following the suggestions and completing the assignments, I have landed a month-long stay in Rome, Italy to learn Italian. This is all paid for by the school I'll be attending. So not only will I be able to stay for an entire month in the Eternal City, but I'll also be able to expand my knowledge of Italian. I can just imagine all the story ideas I'll be able to get from this stay in Rome.

This will really help to launch my career as a travel writer… and it's all due to this program! I found it to be invaluable as I am able to achieve my goal of traveling the world."
Shave Years Off Your Learning Curve—and Get Started for as Little as $39
I guarantee The Ultimate Travel Writer's Program can work for you. That's because it's designed to shave months—and even years—off your learning curve and show you all the different ways you can get from "travel experience" to "paid-for article."
Created by an editor—it shows you how to know what editors want. Give them that, and you'll find it could lead to bylines and paychecks...and travel experiences the average tourist just doesn't get.
Above all, travel writing is fun. And so is this program. You won't spend hours revisiting English grammar and punctuation. It's all about translating what you know as a traveler into a format editors are looking for. And inside, you'll discover exactly how.
I urge you to try the program TODAY—because the special offer on the table right now can not only save you a ton, but it comes with a 365-day guarantee.
The Best Way to Jump Start Your Travel Writing Success

"After immersing myself in all the aspects of this incredible writers' course, I was overwhelmed with excitement. I didn't realize that there were so many magazines and publications that were in desperate need of fresh, quality content. There is nothing more exciting than seeing your name in print in a major publication." – Greg H.
The value of a resource like this would be reasonable at $. After all, sell just one or two stories and you could quickly cover the cost of your investment.
Plus the secrets revealed inside could serve up ten times that in travel perks and income.
This is a resource that could positively impact the way you live the rest of your life. It's an investment in your future. And when you make it today, you can do so for just $399 $165.
In fact, you can get started for as little as $39 today —details when you click through below.
And you take me up on this special offer today—we'll include some valuable special extras as well...not available anyplace else...
Free Gift # 1


101 Places to Get Published
Once you have a story in mind that you might want to write—the next task is to sell it. And that can feel intimidating, I won't deny it. So we're taking the guess-work out of the task entirely.
You can simply start with 101 Places to Get Published (value: $39, yours free). Inside this report, you'll find a long list of print and online outlets looking for writers with stories like yours.
You'll discover a wide variety of outlets where you can submit your articles (and your photos, too). Plus you'll also find inside interviews with folks just like you who gave travel writing a try and have gotten their stories published. They'll share how they found success and offer advice on how you could easily do the same.
There's never been a better to time to try out travel writing. More publications than ever are looking for stories. In this special guide—delivered electronically—we round up 101 of the best. They're all publications willing to work with new writers, and we show you how you can put your best foot forward with any of them.
But that's not all. Take advantage of this special offer on the table right now, and we'll also give you—
Free Gift # 2


Money-Making Travel Photography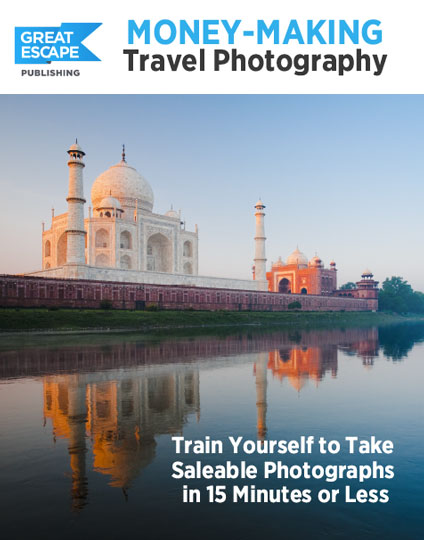 Bundling photos with your stories is a smart way to give your income a boost. And—good news—you don't need fancy camera equipment or a decade of experience to take photos you can sell.
In Money-Making Travel Photography (value: $24.50, yours free)—a unique mini-course specially created for travel writers—we introduce you to one more way to ratchet up your income as you travel the world.
This lucrative bonus program contains all of the secrets you need to know about taking profitable photographs, secrets used by some of the top photojournalists in the world.
You'll learn everything you need to begin taking photos that will complement your travel writing... learn 10 fundamentals about light, location, action, and angles that will revolutionize your photos… plus 24 techniques the pros employ to make every photo more saleable. Find out what you need to bring on the road to minimize hassle and maximize success... how to deliver photos that tell a story and bring a place to life... and more.
Plus, when you order The Ultimate Travel Writer's Program through this special offer today and we'll ALSO include...
Free Gift # 3


101 Story Starters for Instant Success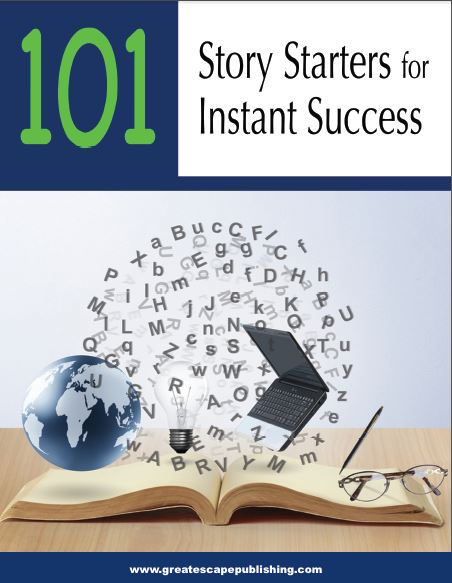 Inside this unusual guide, we take the guesswork out of creating story ideas. Once you've done it a few times, you'll start to see stories all around you, everywhere you go.
But at the outset, knowing what to write can be intimidating. That's why we put together 101 Story Starters for Instant Success (value: $29, yours free).
From easy-to-replicate formats you can follow to ideas that will get your creative juices flowing, you'll find this resource to be an invaluable help as it maps out clearly 101 different ways you can find success.
Altogether, this travel writing package available to you today hands you a value of $491 in guidance, secrets, and how-to advice to show you how to jump-start your own travel writing life—but you can try it with this special offer today for just $399 $165.
Or, in fact, you can get started for as little as $39 today when you take me up on our special installment plan. You'll find the details on the order page when you click here below:
YES, I'LL TRY TRAVEL WRITING TODAY
And you're covered by our rock-solid guarantee…
My Guarantee to You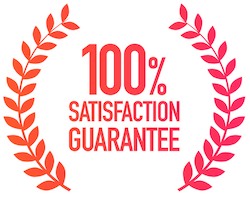 This resource comes with our satisfaction guarantee. Try out The Ultimate Travel Writer's Program for yourself. Consider the step-by-step guidance, give the tricks of the trade a whirl.
If you aren't pleased with the way they work, no problem. You have an ENTIRE YEAR—365 days—to let us know and we'll refund your investment. No questions. No fuss. But I predict you'll be impressed by what you see.
(If you get started for just $39 today and take us up on our installment plan, you can send us an email at any stage to cancel and we'll stop all future monthly billings. There are no refunds with this option as $39 today gives you full access to this program.
Plus there's something else when you take me up on this order today.
Fast-Reply Bonus


Pro Secrets for Selling to Editors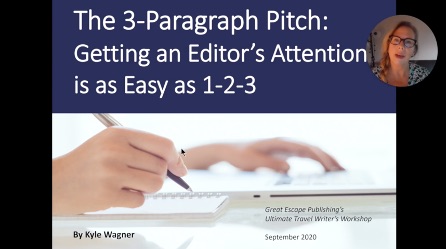 When you order The Ultimate Travel Writer's Program today we're including something incredibly valuable.
Back in September 2020, Jen Stevens, who created the The Ultimate Travel Writer's Program, gathered a group of fellow writers and editors for an intensive weekend online where they shared their secrets to jumpstarting a travel writing career.
One of the presenters at this masterclass was Kyle Wagner, former Travel Editor at the Denver Post. And one of the sessions she hosted was 40 minutes geared entirely to dealing with editors.
How do you talk to them?
What do you say?
How can you best present your story idea?
What if you haven't written your piece yet?
What if you have written it?
Should you send photos—and if so, how?
How do you know what an editor wants—or doesn't want?
When you're starting out, you have all sorts of questions like those. But the good news is that the answers are straightforward and there's a simple formula you can follow to get in editors' good graces right from the start.
As a SPECIAL FAST-REPLY BONUS when you order this program today, we'll include Kyle's presentation, FREE. She'll share with you her "3-paragraph pitch"—the perfect letter to grab an editor's attention in just the right way. And she'll answer all the questions you have about approaching editors. (She even includes a whole segment on what NOT to do.)
There's no other way to get a hold of this presentation. The folks who attended the program back in September paid hundreds of dollars to be there. But—right now, for these few days—we're pulling out this important presentation and gifting it to you—FREE.
Freedom… And an Unbelievable Lifestyle
As a travel writer, if you're serious about it and really put in the work, in a matter of weeks you could find yourself getting paid for your travel stories...and, in short order, you could even find yourself traveling the world—once the world opens back up again, of course.
As a travel writer, you could finally be your own boss: deciding when you roll out of bed… where you'll write from—your home office, a coffee shop, the beach... you could call the shots!
You could enjoy the prestige of seeing your words… your name… your photos in print… and have what is arguably the most envious job imaginable.
You really could get paid to travel.
The Ultimate Travel Writer's Program shows you exactly how it's done.
If you're ready to turn your love of travel into paid-for adventures you'll remember forever, if you're ready to transform the way you experience the world, this is the resource you need to make that happen.
YES, I'LL TRY TRAVEL WRITING TODAY
Sincerely,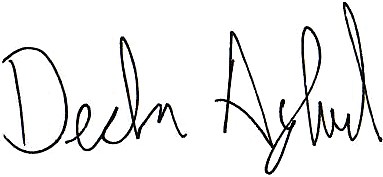 Declan Aylward
April 2021
YES, I'LL TRY TRAVEL WRITING TODAY
P.S. This program really delivers—making it easy to try out travel writing—and succeed. No experience necessary.
If you like the idea of getting paid to travel and traveling in a way you simply can't as a tourist, give The Ultimate Travel Writer's Program a try. It really works. Just look at what a few happy folks who've gone through it have to say:
This Program Enriches Lives, Opens Worlds of Opportunity
"I found Great Escape Publishing and their one-of-a-kind guide changed my life. It showed me how to be a travel writer—with no experience at all—and get paid for stories and the things I do while traveling—like food tours, wine tastings, resort stays and more.

I'm happier than ever…and spend my days getting paid to visit places around the world." – Theresa S.J.
"To have so much fun and be helping enrich people's lives can't possibly be called a job. It should almost be illegal." – John B.
"I found Great Escape Publishing while researching weekend trips around Argentina. The life of a travel writer seemed like the perfect way to keep on the road, on my own terms, in retirement. And GEP gave me the knowledge and tools to get started." – Amy P.