The Little Red Button
That Could Offer You a Flexible, Portable Income
A simple tap-tap could unlock $200…$300… or even up to $1,000 of extra income for you each month (or more often, if you like)
Plus, this income stream is about to get a huge boost from the BIGGEST trends in travel for 2021.
All you need to start is the phone you already own and a finger ready to hit that little red button…
---
Hello, I'm Tom Reissmann.
Today I'd like to show you how a little red button – the video record button that's already built into your Android or iPhone – could help you earn an extra $200… $300… or even $1,000 or more… each and every month you'd like to have it, depending on how much time you can devote and how much you'd like to make.
And the best part?
You can start earning this money in as little as two weeks – or an equivalent amount of perks, publicity, and gifts – from wherever you happen to be right now.
That might be at home, sitting in your favorite chair.
Or perhaps you're doing a bit of shopping and waiting in the parking lot for your groceries to be carried out.
That's fine. You don't need to be anywhere special to get started with this.
Which was a surprise to me, initially.
For more than 15 years, I've based my income on filming my travels and selling the videos.
And I've lived very well.
Even keeping a part-time schedule, some years I've made as much as $65,000 from my videos of international hotels, RV parks, destination restaurants, and popular tourist attractions.
So when the lockdowns came and travel was restricted, I expected to sit idle.
I thought video demand would drop off.
I was wrong – very wrong.
While I'm earning less now that I'm not traveling, I'm still selling videos to small companies, large online marketplaces, and stock site.
In 2020, I found video to be more popular than ever... it's just that what's in demand has shifted. And that's even more true now in 2021.
In fact, over the next few minutes, I'm going to show you how a few quick taps of this red button on your phone and some simple built-in editing tricks can help you create professional-looking footage.
So doing simple films of your local environment…
And yes, I do mean your home, your backyard, local shops and parks…
Can bring in a steady flow of perks and side income for you, starting almost right away.
Even as a true beginner.
For example, Bel Woodhouse hadn't even finished her first how-to lesson when she landed a project worth $250.
And I myself had no formal training in video or photography when I started out, and I still succeeded. I was enjoying my first expenses-paid trip to Egypt within the first month, and gaining paychecks within the first three months, even as I built up my skills.
Though of course, if you already have some skills as a photographer, or an interest in travel photography, so much the better.
Here's why…
Last Year's Lockdowns Have Created Millions Of Travel-Hungry Shut-ins Actively Pre-Shopping Their Next Adventure
Right now, we're in a strange place.
Very few people are heading out for big international trips.
But that doesn't mean trips aren't being planned…
If you talk to the leading experts in the travel industry, they're seeing a surge of interest in domestic travel.
That's the fancy name for trips to national parks, local lakes, key historical sites and other regional attractions.
Everyone is looking for something to do… somewhere to go.
But we're not researching our travels in the same old ways.
In the past, you might have pulled out an atlas, subscribed to glossy travel magazines, or even headed to the library for some guidebooks.
Now, you – and millions of people like you – go online.
You search, you read… and you watch videos. According to recent studies from Rental Scale Up:
"The majority (95%) of travelers [in 2020] spent time looking for vacation inspiration, with over a third (38%) looking at potential travel destinations as often as once a week"
Imagine… 95% of potential travelers online, trying to take virtual tours and get a sense of what it might be like to be somewhere new.
In fact, the average person is consuming nearly 16 hours a week of short videos right now!
And yet there are millions and millions of destinations… especially smaller, more local attractions… that don't even have good photos online, much less videos.
That's a huge opportunity for someone like me…
How You Can Easily Start Where You Are
Right Now…
Within two to three miles of where you are right now, there are dozens of opportunities for you to take short, simple videos.
For practice… for perks… or for paychecks.
Even if you live somewhere you think of as completely unremarkable!
Sandra Steliga, for example, has been selling short videos of her out-of-the-way motorcycle adventures for $100 each. Bel Woodhouse has traded videos of her hometown walks for $150 and traffic to her YouTube channel. And I myself have been marketing videos of Boquete, a small town in Panama near me, for $100 to $500 per video this year.
In fact, thanks to COVID, along with the usual top attractions, many people are now looking for information about destinations whose top selling points are things like "miles from everywhere with nothing around" and "sparsely populated".
You could drive to the edge of your town, park, and shoot video out your car window of the wide, open space on offer.
You could walk around your local park, filming the trails and the trees.
Or you could even do a "shop windows" tour of your downtown area.
These kinds of projects are safe, simple, and straightforward, with thousands of armchair travelers around the world potentially interested in "exploring" right along with you.
Get comfortable with basic videos, and you can take on more traditional local attractions.
Maybe you could arrange with the local museum to come in and shoot a "virtual visit" of their gallery.
Chat with the local hotel owner about taking video of their lobby, rooms, and amenities (you'd be surprised how many views hotel room videos get these days!)
You can visit restaurants, concert halls, sports arenas…
Anything that might give someone from out of town a clear idea of what they'd find to see and do on their visit.
The hotel owners, restaurateurs, museum curators, and local Chamber of Commerce folks might buy your videos after the fact… trade you publicity or perks for your footage… or even pay you in advance to come and do a special shoot for them.
I'll tell you more about rates and perks in a moment. I just want you to start thinking about what's nearby that you could film by pressing the little red "record" button on your smartphone or digital camera right now…
And please, don't limit yourself to traditional tourist interests!
Beyond Traditional Destinations, There's Local Shops, Small Manufacturers, And Even Big Businesses Hungry To Work With A Videographer
This year, brick and mortar retailers got to see what happens to sales when foot traffic goes away.
People didn't stop shopping. They just moved their purchases online.
But they had the same kinds of questions as before…
Do these pants bunch up when you walk in them?
Are these shoes flexible for running?
Is this a loud toy? When I push this button, what happens?
How does this furniture kit all fit together?
Simple pictures can't answer those questions… and many businesses were caught without even basic photos to post online.
Some local businesses, though, got savvy fast.
Take Terra Verde, an independent clothing and home goods boutique in Colorado Springs.
To entice people to call for curbside pickup, order online, or brave a quick trip to the store, the owners updated their old "business card" style website and began recording and posting short videos to the shop's social media channels.
Each video – few longer than 2-3 minutes – highlighted current inventory, allowing those at home to have a "virtual tour" of new arrivals: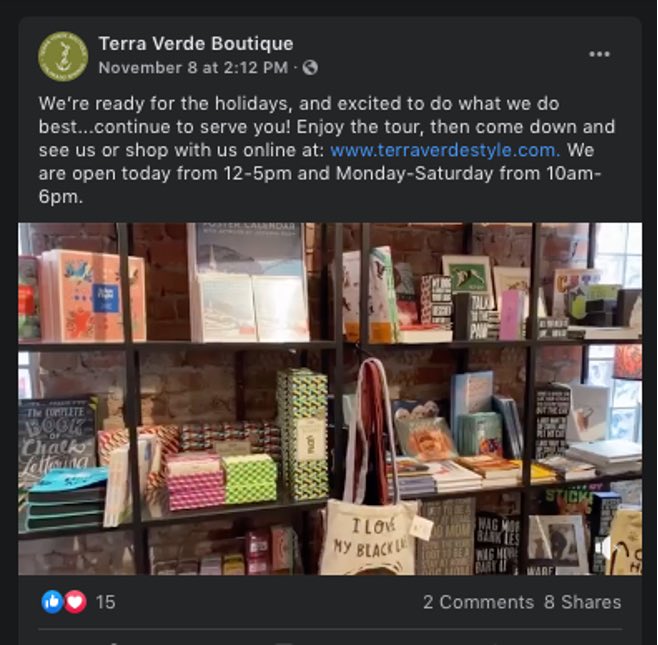 Simple enough…
And a marketing best practice, too!
Sites with videos are 53x more likely to end up on the front page of Google
66% of consumers prefer watching a video to reading about a product.
Visitors watching video stay twice as long and visit twice as many pages
Plus, visitors who watch a product video are 144% more likely to make a purchase
With that kind of marketing boost (and potential bottom line impact), it's no wonder shops are very willing to pay … in cash or in goods … for videos they can use.
Now, you might be asking yourself why a local business would choose to work with someone like you.
And that's a fair question.
But – and I've found this to be true when I was a beginner as well as now that I'm a pro - businesses are, above all, interested in LOTS of video content, and not necessarily sleek-looking footage, but authentic footage.
That's what you can do for them and at a much better price than a professional video company, with state-of-the-art equipment and an entire team. Businesses simply don't have the budget for that.
I mean… moving on from clothing shops and boutique, which are plentiful but often without large budgets for video teams…
Consider what your local manufacturers have been through recently…
Trade shows and vendor conferences are largely cancelled. Traveling sales teams sit at home.
Video, on the other hand – video can be viewed everywhere.
So you have "unboxing" videos, video walkthroughs of product installations, and recorded product demonstrations.
All simple enough to shoot…
But extremely valuable to business marketing departments.
They want that front page rank with Google…those triple-digit "click here" rates… that bottom line sales boost.
And they will pay – often top rates – to get what they want.
That's why… between branding videos, commercials, and product demonstration clips, Cisco estimates that by 2022, video will represent 82% of all business internet traffic.
Now, again, you might be thinking that because you're just one person, a business wouldn't be interested in your video.
But research shows that customers actually prefer more authentic and "user generated content" style videos to highly polished productions.
So you're in excellent shape if you want to go after business video projects.
For example, on Fiverr, many businesses are paying individuals $100+ per minute of video to open packages and react to the goods inside.
I'll tell you more about doing that kind of simple video in a moment – and tell you simple ways to start your video career.
But what if you're shy?
What if the thought of talking to business owners… or even friends who own businesses… makes you nervous?
What if you don't want to be on camera yourself… ever?
That's okay.
I completely understand.
And I want YOU to understand that there is still an opportunity here for you…
So let me show you ANOTHER way to make video work for you…
If You Can't Imagine Getting Even One
Local Or International Client,
Let Me Introduce You To Stock…
Stock is an excellent way for you to film at your leisure, edit and upload when you can, and potentially enjoy a small, steady income from your videos.
So what is stock?
I believe stock footage is one of the easiest ways to make money with videos.
It's short clips of video… generally around five to 30 seconds long… that's used by film producers, commercial directors, and advertisers to help establish mood, time, or place without using more expensive actors or flying in camera crews.
A brief recording of leaves blowing down a dark, empty street, for example, might be used by a director to imply it's a scary evening out in a bad neighborhood.
A child chasing a ball through a sunny park, on the other hand, might be used to set up a happy scene in summer or to run in the background of a local charity's fundraising ad.
And of course, how many TV shows "on location" are really done in studio, with stock footage filling in for the actual city streets?
I can teach you how to create sellable video clips and what to avoid so your clips don't get rejected.
Plus, because stock is marketed in large online portfolios, once you upload your video to the portfolio marketplace, there's nothing more you need to do. The sites handle the sales for you, taking a percentage as a their fee for hosting your portfolio, and pay you out the balance whenever your videos are sold or licensed for use.
It's not a huge income source for most people, but it is something that can make sales and earn money for you in the background while you manage your daily responsibilities or pursue other video, photography, or writing projects.
And if you get quite into it, there's always the possibility to earn more by doing more.
But here I am talking about money again!
Let's just have that discussion right now, because I'm sure you're curious.
If this is so simple… fun to do and so popular with local businesses and online… what is it worth?
What Can You Make – Or Get – In Exchange For
Your Videos?
When it comes to being rewarded for your videos, you have three main choices:
Sometimes, you even get all three!
More normally, you only get one or two.
Say you decide to start with stock videos. It's low stress, there's no set schedule to it, and you can do it when you like shooting almost any subject you like.
In return for your videos, you won't get a free meal in a nice restaurant, a behind-the-scenes tour of a gallery, or even a small bit of local fame.
You'll be paid money.
Spend six to twelve months building up a collection of video clips for sale… and remember these are usually just five to 30 seconds of footage I can show you how to shoot well…and after the clip sites take their commissions you can realistically add a few hundred to a few thousand dollars per portfolio, per year, to your bank account.
It's not get-rich-quick, but it is consistent extra money.
But maybe you want MORE money.
I like more money, too. No shame in that.
So I do more commercial shoots and partner with bigger marketing agencies.
For example, last year, since I wasn't traveling, I took videos I had already done in Europe and Canada, repackaged them into 30-second clips, and sold them to a Germany company to use as background in some advertising.
That earned me $4,805.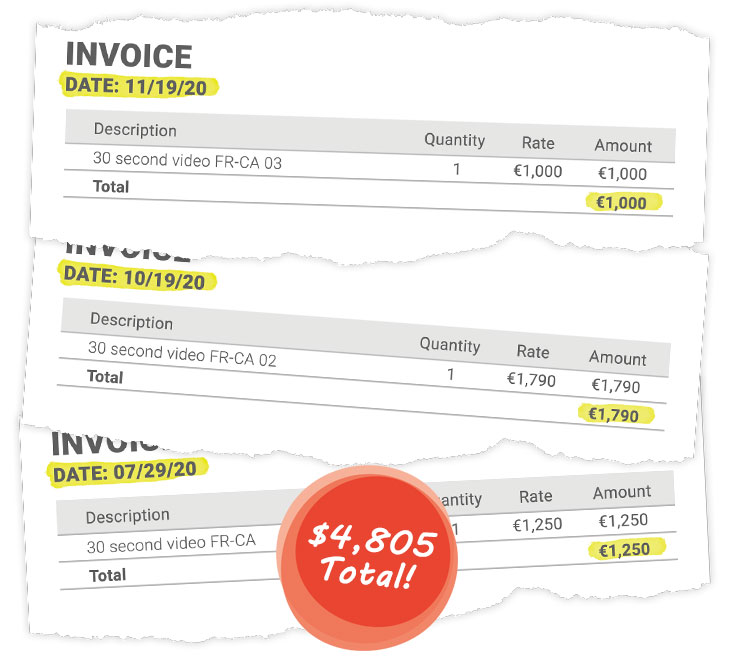 Getty Images – a prestigious name in the photo and video world – also paid me $913.02 for stock footage I took in Boquete, Panama.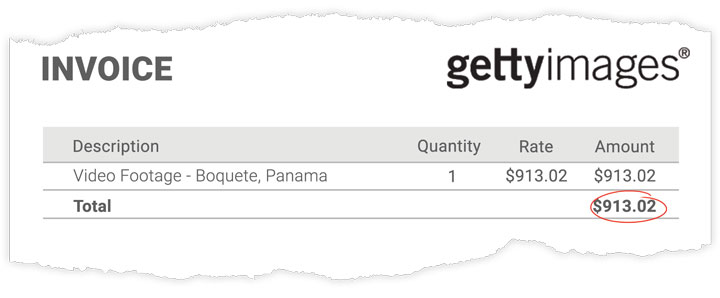 Higher end projects like this are something to shoot for, and I can show you how to get there.
Within six months, for example, you could easily be earning this on stock footage, and within 18 months I can show you how you could be charging top rates for high-end videos.
Right away, as a beginner?
You're more likely to earn between $75 to $100 per video.
And while that may not sound like much, remember that these videos are usually only 2-3 minutes max. Often less.
Shooting, editing, and sharing them might take no more than an hour or two – especially as you gain practice.
Partner up with a clothing shop like Terra Verde, and you might spend an afternoon there, shooting footage, and another afternoon at home editing your footage into 3 or 4 polished little videos to share.
At $75 each, you'll have made $225 - $300.
You could do that every weekend… or just once every few months.
It depends what that money means to you. Is this about topping up a fixed income and having essential funds for basics? Do it more often.
Busy already but want fun money to travel or spoil yourself? Fit it in when you crave a treat.
But maybe…
Maybe treats are what it's all about for you.
Extra perks.
A bit of local fame.
Opened doors.
Things other people don't get to have… or see… or ever experience.
Consider Sandra Steliga…
"When I started taking videos it was mostly for fun and for my own memories of places I visited but I quickly started enjoying fantastic perks by offering up the content I was creating for marketing purposes."
Her best perk last year?
It happened last spring, when she founded herself stranded in Europe.
I know, I know … stranded in Europe doesn't sound too bad!
But Sandra, a motorcycle enthusiast, had left her motorbike and gear in Colombia.
Sitting at home, she edited videos of her past travels into short clips and sold them for $100 each to small motorsports groups.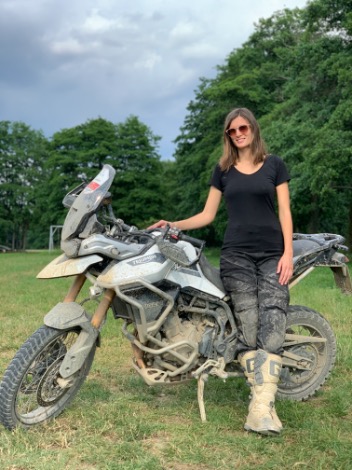 The money was nice. But nicer was the way these little videos opened doors with some bigger motorcycle magazines and motorsports promoters.
Triumph Germany reached out and offered Sandra and her partner their latest high spec adventure motorbike - Tiger 900 Rally Pro - to tour across Europe.
Triumph kitted her out fully, offered to let her represent them during an Enduro riding event in Germany, and even paid for the training to prepare for the Adventure Ride Competition.
In return for event fees, gear, and use of brand new, top of the range motorbikes… worth well over 3,000 Euro… Triumph wanted regular video posts and content as she traveled on their bike through Germany and Austria.
Does that seem a fair trade to you? Like something fun and memorable to experience?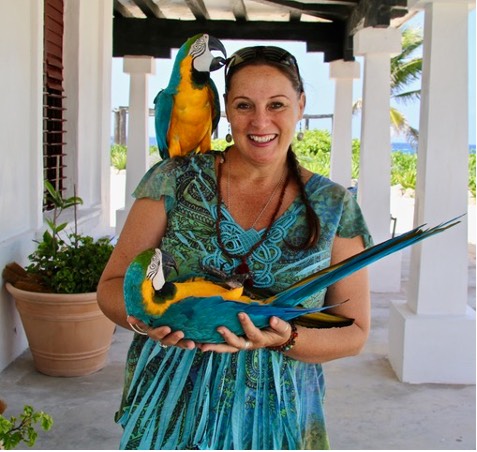 Or perhaps you'd prefer to be Bel Woodhouse…
Bel – just starting out, and still in the first chapter of my video how-to course – was catching up with a friend and mentioned she was getting into doing videos.
Overheard by a local business owner, Bel found herself with a $250 credit to the hottest new fine dining establishment in town. In exchange for shooting a video of her dining experience, Bel got a unforgettably posh night out and publicity as an up-and-coming videographer.
"Yes, I wanted to learn "how to" make videos. But, I had no idea what I was doing, where to start, and a scary doubt I could actually do it!

Then a thought struck, "What have I got to lose?"

The answer. Nothing!
Her first job has turned into others, all close to home, paying her in cash, publicity, and behind-the-scenes perks.
Then there's Dede Fulk. Already on vacation, she chatted up the resort owner and earned herself a wonderful upgrade to her trip:
"I did a video for Crazy Crab Cayman private boat charter company, in exchange for a $750 excursion to Stingray City with private guides. My husband and I took various video footage and put together a video for them. They loved it and it was an amazing time we had with the owner and marine biologist and another guide. We swam and fed and petted the stingray for about 2 hours."
Now, that's their experience.
And it's nice.
But what about you?
What will it take for YOU to potentially be enjoying the perks… local status… and extra pocket money that comes with shooting simple videos?
Let Me Help You Get Started Fast…
I mentioned before that I've been doing videos for more than 15 years.
In that time, I've learned quite a bit about what works and what doesn't for turning these videos into cash, open doors, and special perks.
But when I started out…
I was at square one.
I had no formal training in video or photography.
And yet, working in the travel and hospitality industry, I could see the massive difference video made.
Hotels, restaurants, and local attractions with videos had more bookings and better reviews than those that did not.
So I began offering video as a service, learning via trial and error what settings to use... how to set up a great shot... and where to find the best-paying clients
Today, you get to skip over my trial-and-error and just begin with what works.
Yes, you'll probably start at home, rather than traveling around as I did.
But everything I know works about selling travel videos applies to shooting local videos, too.
After all, even the most exotic locales are "home" to someone.
So you can begin right now and be in a wonderful position to capitalize on your new skills when the world opens up fully again.
Plus, with a portfolio… or at least a few samples… you're no longer a "newbie" to business owners, tour organizers, or top chefs.
You're established.
And "established" videographers get bigger paydays, better perks, and more publicity. You're a known quantity, after all… an "influencer" in your area… and that's attractive to editors, hoteliers, and tourist boards – now more so than ever.
In fact, Tim Leffel, writing for Travelwriting 2.0 about predictions for 2021's press trips and comped travel, notes that tourist boards are especially interested in working with folks who are ready, right now, to provide video and up-to-the-minute updates from a wide variety of local destinations that helps people feel comfortable about starting to travel again..
So how can you go from where you are now…
New to this, unknown, and perhaps a bit doubtful it will work for you…
To being confidently "established" and able to earn what I call "red button income" when you want it from video projects?
Let me help you!
I've taken everything I know about this business and put it into a step-by-step program you can start today, finish at your own pace, and use to begin earning perks, publicity, and paychecks right where you are.
Some students find success in just a few weeks… most others within a couple of months. You, personally?
It depends on the time you have, and if you're ready to start now with my help.
Here's how I can help you…
What You'll Find Inside My Simple,
Self-Paced Program
My program is called Travel Videos for Profit.
I built it with no assumption that you have any video experience, so there's no crazy technical jargon. Plus, even when I'm covering advanced techniques, I've worked hard to make sure everything is easy to understand and easy to try for yourself.
In fact, if you already do travel photography – or have an interest – some of what I teach is going to feel like a pleasant twist on familiar territory.
So whether you're on "staycation" for the foreseeable future or actively planning to get adventurous in the year ahead, my program is going to help you get comfortable, get confident, and get connected with potential clients happy to pay you, promote you, or "perk" you up in exchange for your videos.
Inside, you'll learn:
How to get started… and yes, you CAN start with just the smartphone or digital camera you already own! Some small accessories – like inexpensive wireless mics and tripods – do give your video quality a boost, but you can learn the key skills of video shoots and build confidence before you start buying any extra gear.
Where to sell your videos… what's the point of loading your camera with video if you don't know where to sell any of it? My program shows you how to sell local video footage for stock or ads, plus how to partner with realtors, businesses, and tourism boards for publicity, perks, and paydays. And of course – for the days when we all get traveling again – you'll know how to sell travel videos, too.
What to do as you film so your videos look GREAT … the difference between amateur videos and professional ones (the kind that earn between $500 and $4,000 apiece) is heavily influenced by choices around lighting, camera angles, movement, etc. Get your shot set up right, and everything you do with your camera will instantly look better… and be worth more.
How to edit your videos... great "finished" videos often are quite different from raw footage. Editing can take time, but it's not rocket science. In fact, in many cases, you can edit directly on your phone to quickly polish your video clips. I'll show you how to make these fast edits, and longer polishing tweaks, step-by-step in my program.
As you learn, you'll find multiple explainer videos, special reports, and step-by-step examples provided for you so that you're never lost.
Plus, I include samples of outreach letters, video release forms, and guidance on portfolio videos so that you appear to be a polished pro from Day 1, no matter what kind of video income you choose to pursue.
And that's not all…
I Will PERSONALLY Review Your First Finished Video And Give You Feedback
When you're trying something new, it's common to feel doubts about whether or not you're doing it right.
For many people, this is where they stop… full of anxiety and doubt, certain they're not going to be good enough or that they will do something wrong that prevents them from succeeding with videos.
I will not let that roadblock hold you back!
Video is something you CAN do… that anyone CAN learn.
But that bit of guidance… that reassurance that you're on the right track… maybe a little nudge or bit of coaching about camera angles or editing to improve your style… it really helps.
So when you're ready, I'm standing by to give that coaching to you as a student of my program.
When you have finished the instructional part of the course, make a video and send it to me.
The submission instructions are built right into my self-paced program so that whenever you get to that point, you don't have to stop. You just make your video and upload it for me for review.
And yes, this means when I have watched your video and I send you my notes, you'll have my PERSONAL email address to keep in touch with me. I'm a real person and I really enjoy hearing from my students all over the world, what they're shooting and how they're doing.
Plus… because last year created such an unusual environment for us all as videographers…
When You Choose To Pursue Video And That "Red Button Income" Today, I Have Two Special Bonuses For You
These bonuses were originally shared with a group of VIPs at the last Ultimate Photographer's Virtual Workshop. But, our friends at Great Escape Publishing have agreed to let me share them with you, too.
Video Bonus #1:
Using Your Camera for a Good Cause: Helping Local Businesses to Get Back on Their Feet
In this special 35-minute video session, I reveal:
Exactly what a "local video" looks like, so that you can see how simple it can be to capture one in your hometown
The different types of local videos that really interest businesses and tourism boards…including the ones that "armchair travelers" really love
A step-by-step guide to getting started and reaching out to businesses with confidence
Plus much, much more that's highly useful and helpful to your community, too.
Video Bonus #2:


2 Easy Ways to Monetize Simple Videos

Another major opportunity this year has been with stock video footage. I've been doing quite a bit more of it, as have many of my program graduates.

In this 51-minute video, I share:
The most popular stock video sites right now, so that you're putting your work where it's most likely to sell
Top shots that are selling right now – including how to set them up so your clips are quickly accepted
10 extra tips for finding success in the present environment
A special checklist to help you do everything right from the very first shoot
The "YouTube Secret" you can lean on for extra monetization of your videos and a boost to your personal profile
With everything you see that you're getting here…
And the fun, income, and perks that could be in front of you…
You may be wondering… and yes, maybe worrying a little…
What Does It Cost To Get Started Today?
I created my Travel Videos for Profit program to be easy to understand and accessible.
Thanks to my partnership with Great Escape Publishing, it is also designed to be affordable.
You could use the skill you learn in this program to earn $75 to $100 (or more) per video in cash, perks, or publicity… even as a beginner.
As you gain practice and confidence, you can enjoy much, much more.
And yet…
For all that you stand to gain…
What is takes to start is only a modest investment.
You can gain access to the full Travel Videos for Profit program – and all the bonuses, including my personal review of your work...
For a one-time payment of just $223.
You'll find the full details when you click the button below to place your order.
ORDER NOW
And one more thing…
When you click through to place your order, I think you'll be surprised to find that you're not even really saying a hard "YES" to anything!
Why?
Because when you choose to pay in full, you're covered by an exceptional money-back guarantee…
Up To 365 Days To Make It Work…
And 100% Satisfaction Guaranteed
Click the button below to order Travel Videos for Profit today.
Put my expert tips and advice to work for you…
Practice your video skills, send me your first finished project, get my feedback, follow through on reaching out to local businesses, tourist destinations, or posting up on stock video sites.
Do all of that – for up to ONE FULL YEAR!
Then, review.
If you feel that the skills and solutions I offered weren't actually for you… if you're not 100% satisfied… don't get online and complain to strangers.
Reach out! Email or call the Great Escape team to let them know.
We'll stop your monthly billing immediately, and if you've paid in full, you'll get every penny of your money back, refunded to you promptly and courteously.
ORDER NOW
Why Wait? – Only Fun & Easy "Red Button Income" Ahead
Right now, you have a choice.
Over this next year, millions of bored, travel-hungry people in varying stages of lockdown will go online looking for local videos to watch.
Businesses who have these videos available will thrive.
And videographers who can provide these videos will also do very, very well.
So it's up to you.
Will you keep looking for something to earn you a little extra and add a bit of fun and glamour to your life?
Or will you stop looking and trust that this could be it?
Let me know by clicking the red button below:
ORDER NOW
To your fun adventure,

Tom Reissmann
Videographer and teacher
August 2021
P.S. Thinking to yourself that this sounds interesting but you're really more of a photographer or travel writer? Check out what happened to Bel Woodhouse just last year:
…the best news is that this was the second time in a week I asked the question to an editor - "would you like video" and they both said YES! They jumped at it. Were excited for it. Not only did it put me head and shoulders above the hundreds of other writers out there, it made their jobs easier so they couldn't help but say yes.

I am especially thankful for that right now because as a freelancer I am competing with more qualified, more experienced writers who have flooded the market. Video makes a difference. I don't have 4 years of university or a Journalism degree to back me up. It's just me. With an iPhone, a camera and a spark in my soul saying I'm on the right path. Right now, video is saving me. It is my leg up to beat the competition and I am taking advantage.
Could the same happen for you?
Add video to your skills and find out!
ORDER NOW