You're invited to join our travel writers with more than 60% off.
Why This Membership Opens So Many Doors…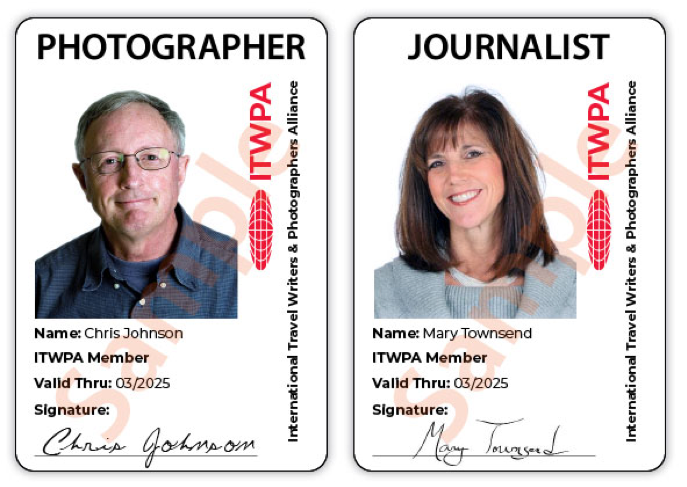 With this essential member I.D. card, you could be traveling the world on your own terms – on the house – and sooner than you thought possible!
So, you've caught the bug, and you're eager to jump into the travel writer's life…
Ready to explore the world, from the white sand beaches of Belize, to the hidden mysteries of Tibetan mountain temples…
You want to embrace exotic cultures, drink sake in Japan, shop the souks of Morocco, and meet tribal warriors in Ethiopia…
Or maybe you'd prefer the more relaxed pace of poolside cocktails in Hawaii, or people watching from a side-street cafe in Paris…
Whatever you're after, travel writing can hand you all that and more.
BUT – when it comes down to it - how do you actually get your foot in the door?
A big part of why travel writing is so great is that it's not about fancy qualifications, A+s, or being in the top percentile of anything.
Travel writing is wide open to folks of all ages and backgrounds. If you love to travel and you're happy to share your honest experiences, then you already have a lot of the skills you need.
For the rest, I'd like to invite you to join the International Travel Writers and Photographers Alliance (or ITWPA) here today.
You see, in the world of travel writing - the credentials that really count aren't tied to any kind of degree.
They're something you can get from a group…
Membership in the ITWPA is your chance to join a very special alliance where members have access to resources within the industry that open doors for them across the globe.
With this inside access, you'll understand how to contact the right people… the people who give you complimentary meals, accommodations, spa treatments, and more.
Adding your name to our list of ITWPA travel writers is without a doubt one of the best ways to get the professional polish you need to succeed.
It can be essential in helping you land that first published clip… or that first photo sale… even that first press trip.
Plus, once you get your start, ITWPA will continue to be there by your side as you gain momentum as a travel writer, helping you rack up more published articles and perks…
Take ITWPA member, Terri Marshall, for instance…
Terri was a tax accountant without a passport when she decided she wanted more fun and excitement in her life. Now she uses travel writing to get it.
She's been to 48 states and more than 30 countries!
"Membership in ITWPA is a door opener!" she tells me.
"This was especially true when I was first starting out as a travel writer. By noting my membership in ITWPA press representatives could see that I was investing in my career as a travel writer--they knew I was a serious writer. The same holds true today even now that I have more than 1,000 published stories under my belt."
Not long ago Terri was invited to spend a full week in the Swiss Alps in a luxurious palace where her suite's private terrace opened to stunning views of the Alpine village below it.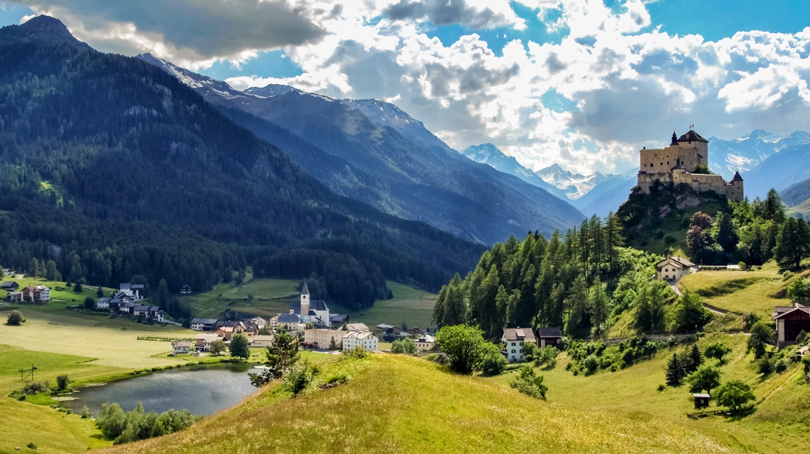 During the day, she explored, taking in the stunning natural beauty of Alps, and in the afternoon, soothed tired muscles with decadent spa treatments. Each evening Terri was treated to six-course dinners and fine local wines.
On a travel writing trip to Alaska, Terri stayed in a luxury dome with a ceiling designed for viewing the Northern Lights from the warmth of her bed. She's also sat on the beach in Antarctica beside penguins as they waddled to and from their nests where their furry chicks awaited food.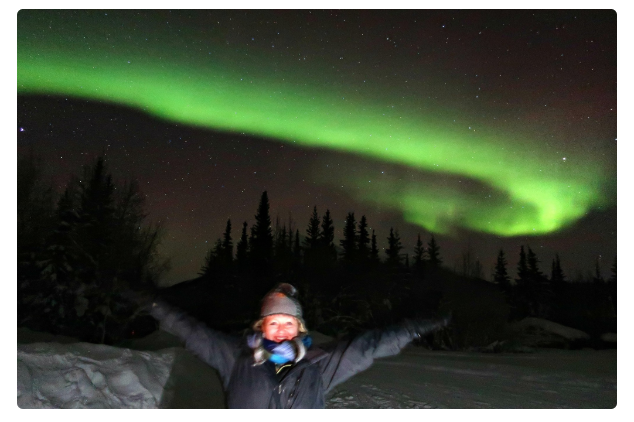 Terri's also been invited on several all-inclusive luxury cruises along Europe's most scenic rivers. On one, she even had a private butler.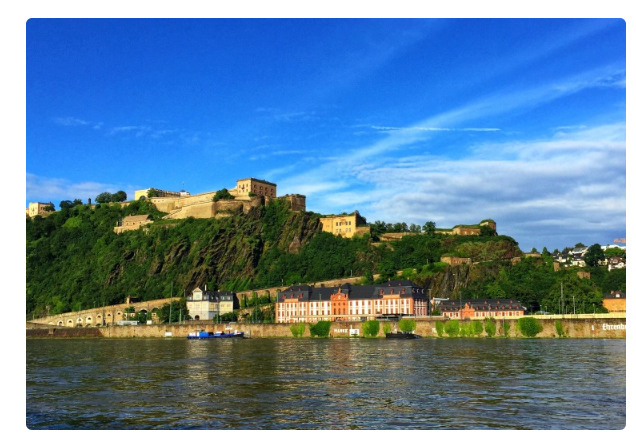 Here's an excerpt from one of her articles where she shared the experience…
"It's morning aboard my luxurious home for the week, and I lazily roll out of bed, put on my plush robe and dial my butler. 'Good Morning, Ms. Marshall. Are you ready for your tea? Yes, please.' Slipping on a cushy pair of slippers, I wander out to my private terrace to see what fairytale scene is unfolding.
That is how each day of my luxury river cruise along Germany's Rhine River began. Evenings were even more indulgent as my cabin attendant made sure the all-inclusive mini bar was well stocked with white wine—apparently someone kept drinking mine."
These are some of the many amazing trips and experiences Terri gets to take as a travel writer.
With her ITWPA membership as a resource for contacting editors and landing these press trips, she's now had well over 1,000 articles published in travel magazines and websites and she's been paid to visit more than 30 countries.
Terri had no writing degree, experience, or connections when she started out. But the confidence and resources that came with her ITWPA membership opened all the right doors.
A Dream Life, Full of Travel, All Within Reach
Now, perhaps you're thinking, "I could never land a sweet deal like that… jet-setting around the globe is only for celebrities and millionaires with big pockets."
But this simply isn't true. You most certainly can – and you will if you try -- faster and with a lot less footwork than you probably imagine.
ITWPA membership helps!
It's your exclusive access to how-to guides from industry insiders who'll help you get your foot in the door by showing you how to navigate the travel writing world like a pro.
It's your insider access to the how and where to apply for much-coveted free press trips…
And it'll open doors in more ways than you can count... with advice on what to say, who to talk to, how to get published, how to get free travel and more.
It's An Instant Leg Up And All The Professional Polish You Need!
Becoming a member gives you a wealth of insider knowledge to lean on. Friendly support from pros and fellow beginners. And an extra boost of confidence to help you score that first free trip – and many more after.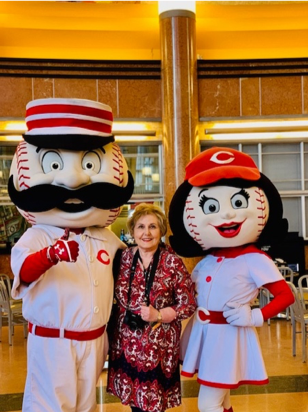 Connie P. used hers to go from music teacher to published travel writer, taking press trips and seeing her stories in glossy magazines. She told us:
"Everyone thinks I have the world's coolest job, and they're right. After all, I've watched a renowned carousel animal carver in his studio and enjoyed the hospitality at his B & B.
"I've sat within a few feet of a James Beard award-winning chef observing as he directed the orchestra of his kitchen. I've served as a judge in the desert and bacon categories at the World Food Championships, and last week I interviewed Lucy Buffett (sister of Jimmy Buffett) about the top-rated fried green tomatoes she serves at her wildly popular restaurant in Gulf Shores, Alabama."
Scott Kendall used his membership in this group to travel with his family through Italy enjoying an intimate cooking class in the Tuscan hill town of Montepulciano, in the company of Oscar-winning filmmakers, a charismatic restaurant owner, and a head chef...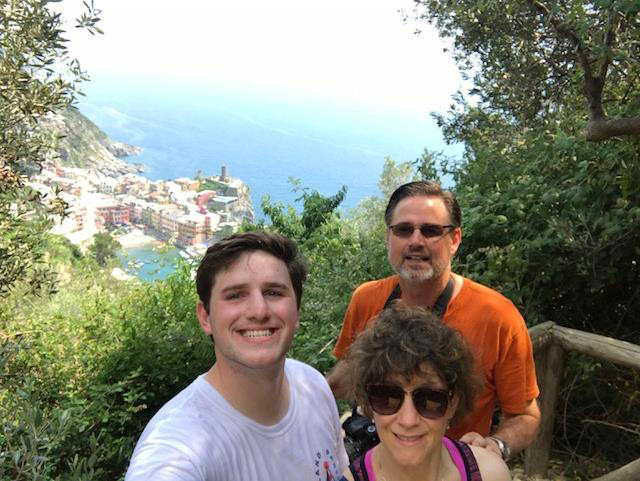 A private water taxi from their complimentary hotel in Venice, delivering them to the doorstep of one of the finest glassmaking factories in Murano for a personal tour...
A beautiful five-course meal with a local Monterosso wine, starting with a warm welcome from the owner, all the while enjoying the view from the best seat in a fabulous seaside restaurant in Cinque Terre...
And those are just a few of the perks he and his family were able to enjoy, because of his travel writing credentials.
Of his new travel writing life, Scott says: "In addition to getting some great complimentary perks, I have formed relationships with hotel and restaurant owners, chefs, business owners, artists, writers, and other interesting people. This has opened so many doors of opportunity that I would never have encountered in my previous life."
And Tim Cotroneo uses his membership and credentials to go island hopping in The Carribbean, with free accommodation, and free tours.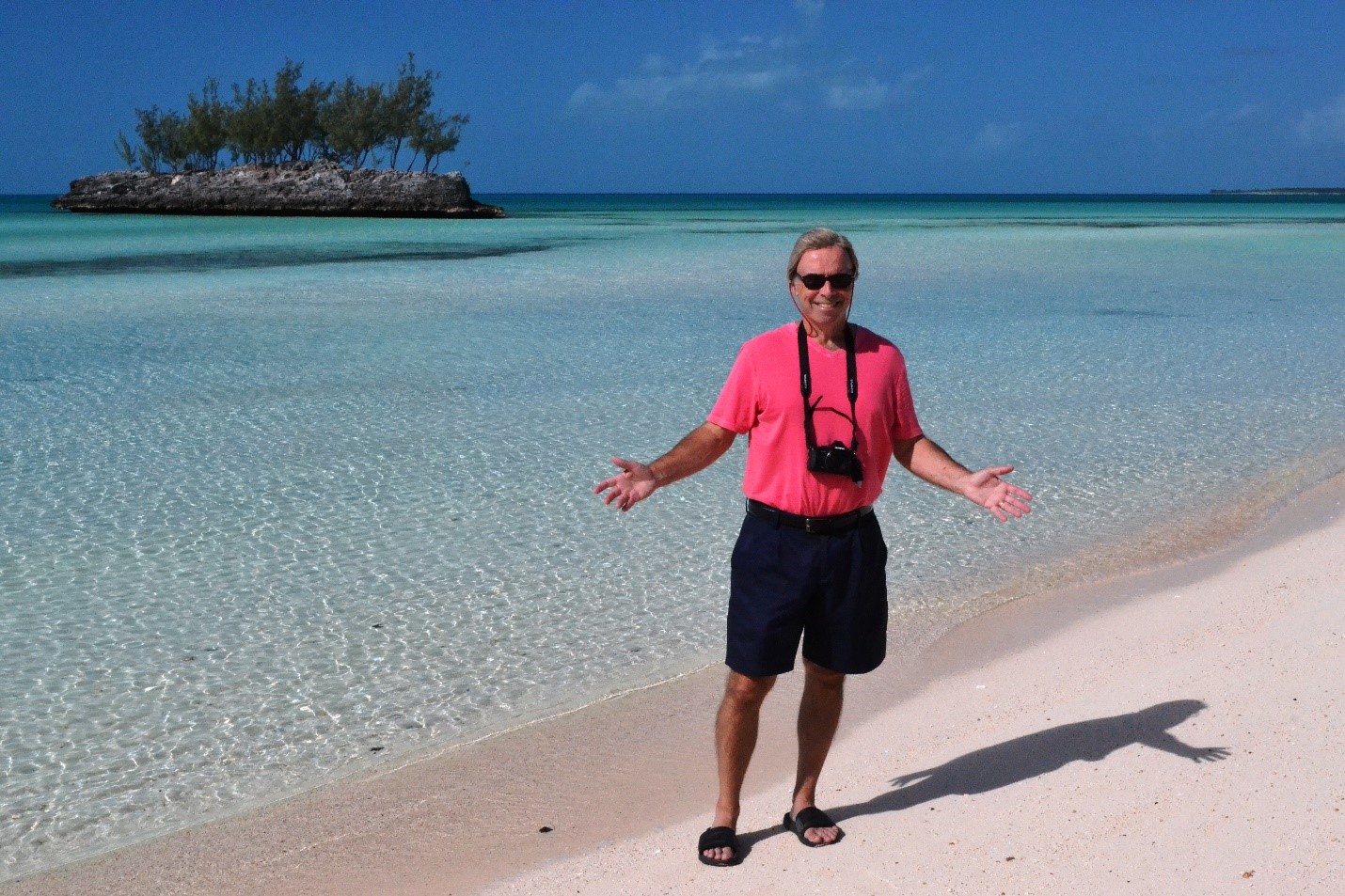 ITWPA Member Tim Cotroneo in the Carribbean.
Tim says,"I like to think of the ITWPA membership as my travel writing secret weapon. It's there if I need it to provide credibility in the world of hospitality and tourism."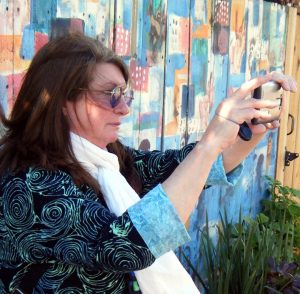 ITWPA member Mary C. just hit the 300+ stories published mark. She's been traveling close to her coastal California home, covering destinations within a few hours' drive, and is getting ready to spend 30 days in Malta in the fall, living like a local in two apartments, one on each of two of the Maltese islands.
Mary tells us, "My ITWPA membership badge has helped me secure press passes for a paddle boat ride in New Orleans, six museums, and access to the VIP area in hotels. It gives me credibility when interviewing folks without introductions. And it makes strangers comfortable when I ask to take their photo for a story."
And member Ricki Linksman, an author and travel writer, says: "Having an ITWPA membership has given me invaluable access to people, places, and experiences few receive. The membership I.D. card is like a passkey that opens the doors to behind-the-scenes stories and photos for articles and blogs about fascinating people and exclusive places. It enables me to write about five-star resorts, spas, cruises, gourmet restaurants, and sight-seeing venues from new and exciting angles. The confidence it has given me to go anywhere I want to write about has been priceless."
These card-carrying ITWPA members aren't doing anything you can't do.
They're traveling like VIPs.
The fastest way to become a professional
"Membership in the International Travel Writers & Photographers Alliance helps you look like a pro, act like a pro, and sell like a pro. I mean, the advice you get from Kyle Wagner every two weeks in the member newsletter alone is worth the price of admission.
"Kyle's tips and advice are so good that, even though I've been a professional travel writer for over 20 years now, there's not an issue that I don't read and think, 'Wow, I should try that.'
I think ITWPA makes a very smart investment."
– Jennifer Stevens, Freelance Travel Writer
A Professional Appearance Can Smooth The Way to Perks and Privileges
Your ITWPA membership & ID badge is a powerful thing. It can open doors – sometimes instantly. And the perks -- free entrance into museums and parks, reduced rates on hotels and travel services – are hard to beat.
But you do need to write. So there's advice inside about that, too. Advice that gives you a competitive edge.
It's not just a card. It's about so much more…
"In three months of traveling, I have received thousands of dollars in comped activities and stays. I have also published 9 articles for three different publications and have been accepted to work with three more"

– Sally P…
"ITWPA Membership helps me to feel like I've got a 'foot in the door' - to present myself as a professional travel writer, even though I'm still relatively new."

– Tammy P…
"ITWPA has been an ice breaker when trying to get leads, trips and tours. It was also a boost in confidence when I was first starting as a travel writer"

– Donna L…
"It puts all the information you need to succeed right at your fingertips. When you have a question about Travel Writing or Photography ITWPA has the resources to get you your answer. The training that membership gives you access to is top notch. No matter what level of training you have had you can still learn more." "

– Deborah F…
It's Your New Secret Weapon...
On top of all this, your ITWPA membership comes with special, exclusive guidance from industry insider, Kyle Wagner – formerly the travel editor at the Denver Post, and currently a full-time travel writer.
As editor of the ITWPA Insider, your members-only newsletter, Kyle will send you practical tips about how to write better, travel smarter, and earn more… and timely on-trend advice for what's working in the industry right now.
Every issue is like a peek behind the scenes, keeping you fresh and current with what's happening in the industry.
Recent issues have covered:
Four new ways to become a travel writer this year...
Three tips for finding great story ideas...
What it means if you don't hear back from an editor – and what to do next...
Kyle's #1 cash cow – the type of story that selling best today...
How to look like a professional writer even when you're not one...
And so much more.
Plus, each issue comes with a press trip announcement (a press trip is a way for you to travel for free while, in exchange, the location, lodgings, restaurants, and activities get a chance at some press coverage), and details on how to apply. Past issues have featured a golf and adventure trip to the Dominican Republic, an all-expenses-paid trip to North Lake Tahoe, a beach trip to Spain's Basque country, and an opportunity to get an inside look at the Kentucky Derby, among others.
... which means you'll get TWO ideas for free travel opportunities sent to you each month. The ITWPA Insider comes to your email inbox every other Friday.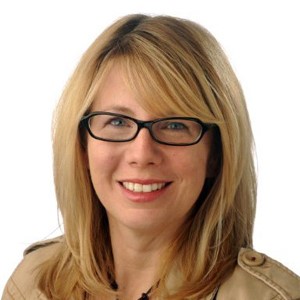 "As a writer, editor and photographer for 30 years and editor of the ITWPA newsletter for more than a decade, I am only too happy share what I've learned and continue to discover-- the good, the bad and the ugly -- to members who are excited to share their own travel experiences with the world.
From the top grammatical mistakes that drive editors crazy to insight on how to find your voice, the insider info I offer is my best guidance for getting those bylines and fully exploring the lifestyle of a travel freelancer.
I know how the industry works, I'll do the research, uncover the press trips, and show you how to deliver on your promise with good articles editors want. Think of me as your secret weapon, your woman on the inside, opening doors for you"
–Kyle Wagner
"It has lots of good information including upcoming press trips. I applied for and got a press trip to Luxembourg after reading about it in your newsletter." "

– Susan K.…
"The ITWPA newsletter is excellent and inspiring. I retired Dec. 2017 and those monthly articles have been what has kept me excited about retirement"

– Mike Y…
"The newsletter has been full of great tips and links, and access to publication in TravelPostMonthly has been a big help in getting real-world experience and bylines to share when approaching potential subjects. I feel that membership has been a valuable part of my advancement as a travel writer, and with other writing career opportunities. Thanks so much and keep the great info coming!" "

–Chuck W.…
They Say The Best Things in Life Are Free…
I'd have to agree. In just one year, I've…
Come face-to-face with a huge wild water buffalo at a wilderness resort… with only the reinforced side of a Toyota Troop Carrier between us…
Watched a majestic sea eagle dip into the ocean and flap lazily away, a huge salmon struggling in its razor-sharp talons… then I retired that night to a five-star villa after enjoying a six-course feast, washed down with ambrosia-like fine wines…
Been parasailing, jet skiing, and then pampered at a luxurious island resort as a guest of the owner…
Enjoyed complimentary meals at top-class restaurants…
Had people contacting me with offers of free trips to various cities and countries around the world…
Taken escorted tours of major tourist attractions, like Whaleworld – a completely restored whaling station – where those heavyweight gymnasts of the ocean cavort just an arm's length away, geysers of steamy water spouting from their blowholes…
And cruised around a group of tropical islands in a motorized outrigger canoe and snorkeled through one of the world's largest and most famous barrier reefs…
I've done all this in just 12 months and I've done it all for free (or, at least, for next to nothing).
Let me explain.
My name is Brian Norris. I'm now into my second half-century – more by good luck than good management. I've worked hard all my life, had good jobs and made good money… most of which I've spent indulging a passion for travel.
Now I'm turning my travel into an income-producing endeavor. These days, I get to explore the world on somebody else's dime, everywhere I go I'm treated like royalty… and then I actually get paid for my troubles.
All this is largely due to my ITWPA membership. It creates opportunities, opens doors, sparks immediate attention, and gets me respect like nothing I've ever seen before.
For instance, one of the last times I put my membership to use, I got to take my wife on vacation for five days to an exclusive island resort off the coast of Australia. We were wined and dined. Relaxed on the sand. Enjoyed tremendous pampering. It was a trip that would normally have cost us $2,000. But we spent $50 for airport parking and $3.67 for a bottle of water and a bag of chips.
And you could be traveling like this, too…
Your ITWPA Members-Only Site is Your
"Go-To" Hub For All Things Travel, Writing,
And Savings!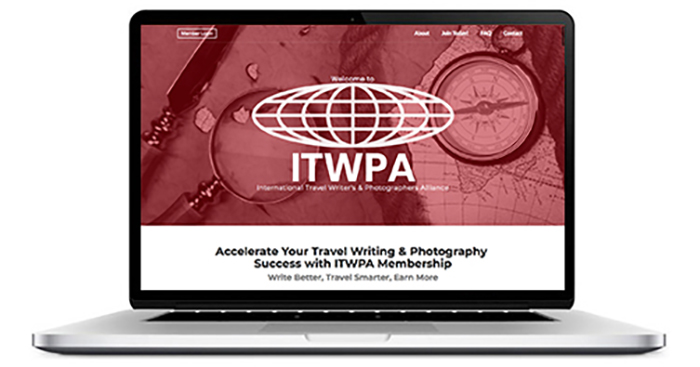 When you become an ITWPA Member today, you'll get instant access to the full archives of the ITWPA Insider which hands you a virtual library of insider knowledge, writing tips, and how-to help for landing amazing travel perks and press trips.
It's all waiting for you on your private password-protected member site.
The value of these archives alone is well worth the price of membership and this information is not available anywhere else.
Plus, you'll have access to invaluable feedback with your Ask an Insider section. When you're starting out, you're going to have questions. So, we've created a members-only forum where you can go to share your ideas and get your travel writing questions answered by our team of pro editors and travel writers.
Confused about the best way to approach a publication? Not sure you're thinking about your article the right way? Simply sign in and ask an insider. That way, you can skip the guesswork, and put your best foot forward with polished pitches and stories, even as a beginner.
Instead of going it alone, you'll have a team of pros ready to help, and your fellow members ready to share their experiences and cheer you on.
Professional Polish On Your Photos, Too
The ITWPA also recommends the best individual photo portfolio website.
They've combed the internet to find the best one… and they show you step by step how to use it.
So, even if you're not a professional photographer… or you don't have a website where you can send editors to see photos that match your story… you'll now know where to store your photos and professionally share them with editors.
Jump-Start Your Travel Writer's Life
When you join the ITWPA, you'll have at your disposal everything you need to start living a truly enviable lifestyle: professional polish combined with insider secrets and a wealth of resources.
Just think: Sooner than you ever thought possible, you could find yourself on some far-off tropical island… sipping a cold cocktail… enjoying the warm surf lapping at your toes… and getting paid to write about it.
Or maybe you dream, instead, about sailing across the Atlantic on one of the world's most luxurious ships… nothing but clean air and sea breezes for days at a time, the wait staff at your beck and call…
Or perhaps you fantasize about spending time relaxing in a traditional Tuscan villa… exploring the antique markets of Paris… wandering through the vineyards of Argentina…
Whatever your travel dream, as a member of the ITWPA, you can live it… taking advantage of offers of hospitality and VIP travel perks… and getting paid to tell other people about your experiences…
"Membership in the ITWPA has given me self-confidence and credibility, and helped me to move forward with my goal to become a published, professional writer"

–Chuck W.…
"ITWPA Membership offers real benefits that can help steer your travel writing and/or photography career to the next level. And the discount on live events defrays a big chunk of the membership cost. "

–Connie R.…
"This gives me a lot of motivation and help me to reach a higher level of professionalism"

–Louis-R.…
Not only is today's membership deal the lowest price we ever offer on membership (more on that in a minute) but when you join this week you'll also get:
YOURS FREE: A Quick-Start Guide to Becoming a Professional Travel Writer
Originally, membership in the ITWPA was designed for experienced writers and photographers only. But that changed a few years back when we realized how powerful this membership was for people looking to land their first byline
So, in recent years, we've opened it up to beginners and added a step-by-step blueprint to help beginners get up to speed and start landing bylines and perks quickly.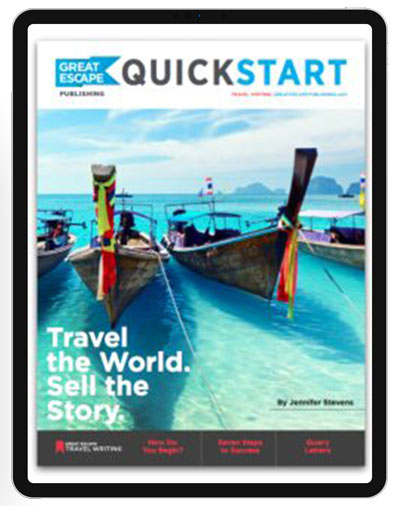 It's called The Best Job in the World: A Quick Start Guide to Becoming a Professional Travel Writer.
Written by Jennifer Stevens, it includes a 10-Day Success Plan for getting your articles published fast… six ways to find salable story ideas… seven habits of successful travel writers… the # 1 secret to writing travel articles that sell… and lots of real-world know-how that'll shave months (if not years) off your learning curve and help you get the most out of your ITWPA membership from the start.
And once you land those first bylines, the next step is landing all the VIP perks and benefits that go hand in hand with being a published writer—so here's something else that can help:
YOURS FREE: How to Bag the Best Freebies: 5 Real World Tips for Scoring VIP Travel Perks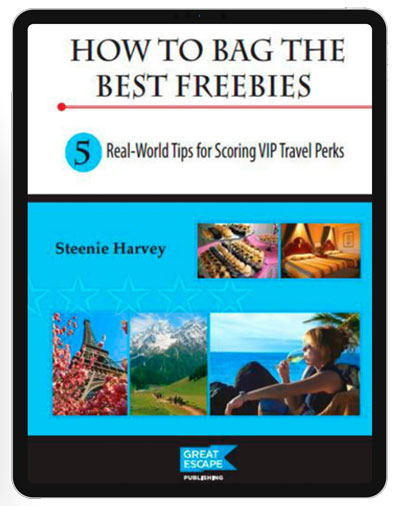 Written by Steenie Harvey, a seasoned freelancer whose by-line has appeared in all the major British newspapers as well as the Washington Post, The World & I, International Living, and beyond, this report divulges all sorts of useful secrets, like:
How to get your name on the best press lists so when rip-roaring adventures… romantic escapes… and other fun or exotic trips come up, you get the call for the job!
How to arrange your own individual press trip or private tours. You can literally decide where YOU want to go and what freebies YOU WANT… then go after the people who can give them to you!
Secrets for getting fabulous food freebies… and experiencing the world's best hotels for nothing (or at deeply discounted rates).
And much, much more…
YOURS FREE: Profit from Your Photos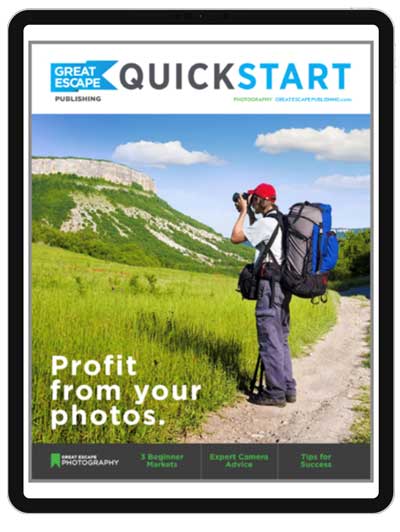 Plus, since adding photos to your travel articles can double or triple your income from a single story, you'll also get exclusive access to Profit from Your Photos: A Quick-Start Guide. Inside, you'll learn:
How and where to sell your photos
The three biggest markets when you're just starting out
The three biggest markets when you're just starting out
Sick tips for mastering your photo composition
And more!
All three reports are yours as my gift when you join the ITWPA now. If you've ever dreamed of living the fun and exciting life of a travel writer… getting paid to explore the globe… enjoying the curious and magical respect writers and photographers enjoy…
… here's your chance to turn your dream into reality… faster than you ever imagined.
Cash in on Special, Members-Only Discounts
On your member page, you'll find exclusive discounts on travel supplies, recommended books, and other practical resources for traveling writers, like reduced-rate magazine subscriptions, great deals on luggage, discounts on writer's supplies, and more.
And members also receive great discounts on apartment rentals and resort stays all over the world – from Montana to Panama, Paris to Oregon. This is a savings worth hundreds – even thousands – of dollars. These discounts are yours, simply for being a member of the ITWPA, and are only available on your password-protected website.
And finally, as a member, you'll always get $200 off any of our Ultimate travel writing or photography events.
A Unique Opportunity to Travel The World on Somebody Else's Dime… AND Get Paid…
Members of the ITWPA – all people with a passion for travel and an interest in discovering the world – really are exploring the planet in a way no ordinary tourist could.
They know the insider tricks to landing fabulous perks – like all-expenses-paid island vacations… reduced-rate African safaris… free passes to the Fireman's Ball in Paris, France… and more…
Those are all trips ITWPA members have enjoyed. And when you join their ranks, you'll learn how to land perks like those, too…
Amazing travel experiences that would cost an ordinary tourist hundreds and even thousands of dollars can be yours, as an ITWPA member, for next-to-nothing… or even free.
If that is, you put the tips you'll learn as a member to smart use. It's easy. It's fun. And it's your ticket to a whole new world of privileged travel.
The catch? There isn't one. All you have to do in exchange for these amazing offers of hospitality is write up a short story about your experiences. Explain, or illustrate through photos, what you like about a place and then follow the advice in the guide for getting your story to the right editor.
When you take advantage of this special opportunity to become an ITWPA member today, you'll get every resource you could possibly need to deliver excellent, saleable accounts of your travels easily, quickly, and enjoyably.
Along with the confidence and insider know-how to get out there, even as a newbie, and land all the great opportunities open to travel writers.
Take Over 60% Off And Claim A Full Year Of Membership For Just $290 $99
A one-year membership term in the ITWPA usually costs $290.
But when you join here today during this special offer, instead of the regular $290 membership you pay only $99.
That's more than a 60% savings!
Your membership ID badge and all the member benefits listed here will be valid for a full year.
And that $99 is money you can easily make back on your first trip traveling as a member of ITWPA. In fact, here are a few press trips recently on offer to members…
A rail holiday in the U.K., where you can set up your own personalized itinerary for taking in the scenic countryside via train journeys.
Estes Park in Colorado is eager to work with freelancers who want to experience and write about this rustic and welcoming gateway town to Rocky Mountain National Park, which counts nature-oriented adventures and wineries among its many charms. The tourism bureau will work with writers to develop an itinerary and secure comps or media rates for lodging, meals, and activities.
Explore the natural beauty of Alaska and the Northern Lights, via one of the several press trips the state hosts every year. Most of the trips involve a specific theme, such as national parks, great lodges, or RV travel, for example.
A luxury lodging company in Orlando, Fla. will work with writers, including bloggers and online influencers, on stays during a trip to Florida. The site aggregates luxury lodging that normally goes from $325 to $4,000 a night, all with multiple bedrooms, pools, and fully-stocked kitchens. The company represents lodging in Europe, the U.K., Mexico, the Caribbean, and Asia, as well. So, once they've successfully worked with you domestically, they will consider an international stay, too.
And these are just a few of the trips on offer currently. In months past we've seen trips to Belize, Kentucky, Switzerland, Ireland, Norway, the Balkans, and more.
Joining today means you can gain access to an organization that will boost your confidence and give you the professional credibility to enjoy a new and exciting life as a card-carrying member. You'll have every support you need to get started as a travel writer or photographer, and enjoy one of the most exciting, romantic, and rewarding lifestyles there is!
THIS WEEK ONLY: QUICK-REPLY BONUS!
Order today and you'll get immediate access to this additional bonus report—yours free—to ensure you have everything at your fingertips to travel better on the cheap: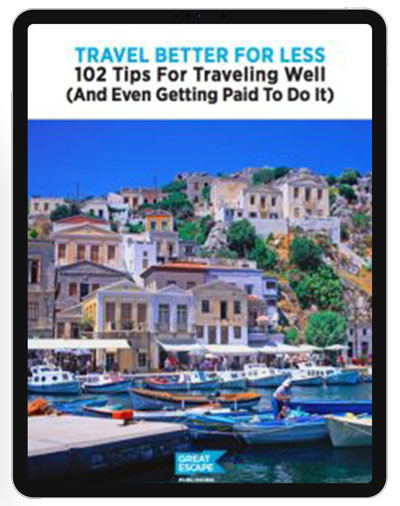 QUICK REPLY BONUS #1: Travel Better for Less: 102 Secrets for Traveling Well (And Even Getting Paid to Do It).
There's nothing quite like insider intelligence to help guarantee a successful trip -- to save you time, trouble, and money. So, inside this guide, you'll find 102 worthwhile tips from savvy travelers across the globe to help ensure you get the most out of every trip you take. Tips like how to secure a discounted hotel room, how to get free rental car upgrades, how to find cheap gas when you're driving, and more.
Whatever Your Travel Dream… The ITWPA Can Help You Make It Happen
There's no better time to become a member of the ITWPA.
You'll join the ranks of accomplished travel writers and photographers and put yourself firmly on the path to a whole new life as a jet-setting freelancer with exclusive benefits including…
Your personalized ITWPA Member ID Card, which gives you the polish of a pro and can open doors around the world.
The ITWPA Insider delivered twice a month and chock-full of easy pro-level tips and techniques to bump-up your income and your professional stature, fast.
Ongoing mentoring from our industry insider, Kyle Wagner, who will share her best tips and insight, essentially sending travel writing lessons right to your computer every two weeks.
Discounts on writing- and travel-related resources (including great savings at resorts and apartments from Paris to Ecuador…Portugal to the Dominican Republic).
Access to the resources on the members-only section of the ITWPA website, which puts invaluable time-saving, money-making secrets at your fingertips.
Answers to your questions and a place to share your ideas, opinions, and experiences with your ITWPA's members-only Ask an Insider.
Tutorials for our favorite website where you can maintain your photo portfolio and showcase to editors interested in buying your shots.
Plus your Three promised bonuses:
BONUS #1:

The Best Job in the World: A Quick Start Guide to Becoming a Professional Travel Writer

BONUS #2:

How to Bag the Best Freebies: 5 Real-World Tips for Scoring VIP Travel Perks

BONUS #3:

Profit From Your Photos: A Quick Start Guide
And your additional quick-reply bonus when you join this week:
QUICK-REPLY BONUS!

Travel Better for Less: 102 Secrets for Traveling Well (And Even Getting Paid to Do It)
Taken together, the value of these extra benefits of ITWPA membership adds up to nearly $400– and that doesn't count the value of complimentary travel perks you'll learn how to arrange.
If you'd like to try out the many benefits of ITWPA membership to get freebies and perks… pick up expert writing advice and skills from professional Kyle Wagner… or apply for a press trip… then today is the day to join.
Try it for only $99, and if you don't think it's for you simply ask for a refund within 60 days and we'll give you all your money back. You have nothing to lose for the first 60 days, and a heck of a lot to gain!
Click here to join
at a massive discount.
To your future,
Sincerely,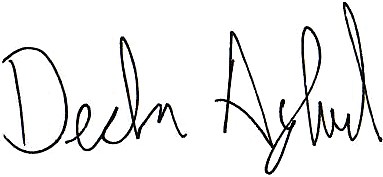 Declan Aylward
P.S. I urge you to act now. Don't just dream of a more exciting existence, a life where you head off to far-flung locales, a notebook tucked into your carry-on and a camera slung around your neck. Go do it.
Look back, this time next year – perhaps from a corner café in Paris – and say, "Wow, now that was a smart investment."
I hope you'll RSVP to this special invitation now – and put yourself firmly on the path to a whole new life. There won't be a better, or more affordable, way to do it. And the perks, as other members will tell you, can be absolutely extraordinary. Click below to join.
"This is a valuable tool in order to submit articles; also especially useful if you are traveling to try and secure discounts"

–Jacqueline S…
"Having my ITWPA journalist badge has given me access to interview people that I probably normally wouldn't have access to. And once I get to interview people they are willing to open up and be very intimate in the interviews with me."

–Sharon B.…
"ITWPA has opened up many ideas about writing. I'm excited to put some of these ideas into practice and make money."

–Cooke B.…