THIS PRODUCT IS NOT AUTHORIZED, ENDORSED OR SPONSORED BY ADOBE, PUBLISHER OF LIGHTROOM
The Single Greatest Leap You Can Make to Improve Your Photography…
MASTER Lightroom (and Learn to Love It) With Loads of Short, Easy, Video
Here's why that's so important
---
Bonnie is my secret weapon.
I know I need to process my images before putting them out there in the world. Processing is how I add the finishing touches of "wow" to my photos.
But I don't have time to scour the internet and figure this stuff out on my own. And I don't have time to wade through hours of classes either.
Meanwhile, Bonnie lives for this stuff.
She loves photography for its art… a way to create something unique, and to turn "the everyday" into something extraordinary…
She likes the spare income, because she does this on her own terms, and it's coming from something she likes to do anyway. And honestly, we can all benefit from this.
Bonnie puts in all the legwork, she digs in, and finds all the best tricks and techniques that have the most impact on your photos. And then she repackages it in easy-to-follow instructions for us with her own spin… because Bonnie is always looking at photography from a sales perspective – it needs to be pretty, but it also needs to sell!
I can't tell you how excited I am about this Lightroom training program she created.
It takes just three days to get a solid understanding of the program, and you're going to love Lightroom after this.
Hours and Hours of Lightroom Classes
Packaged in a Video Library That Gets Updated
Every Time the Program Improves
Those images in Condé Nast and National Geographic that you pore over with envy -- you can bet they didn't come out of the camera like that. The photographer added the "wow" afterwards, using a processing program like Lightroom.
He turned the gray, hazy sky a bright blue. He added sunbursts from behind the clouds. All with just a few mouse clicks!
No sun: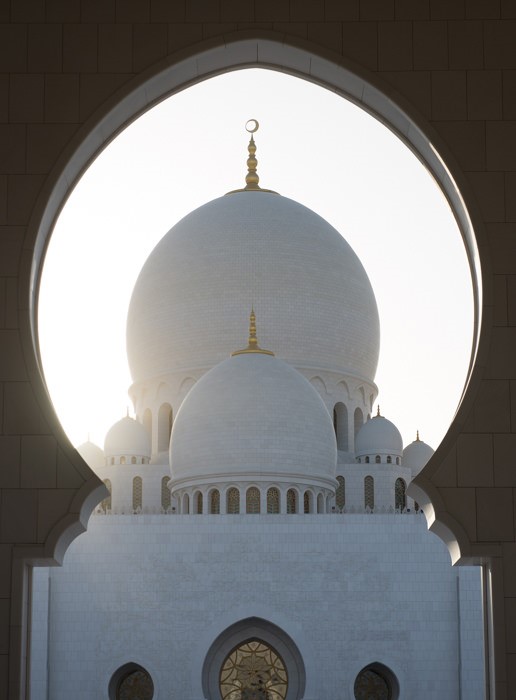 Sun: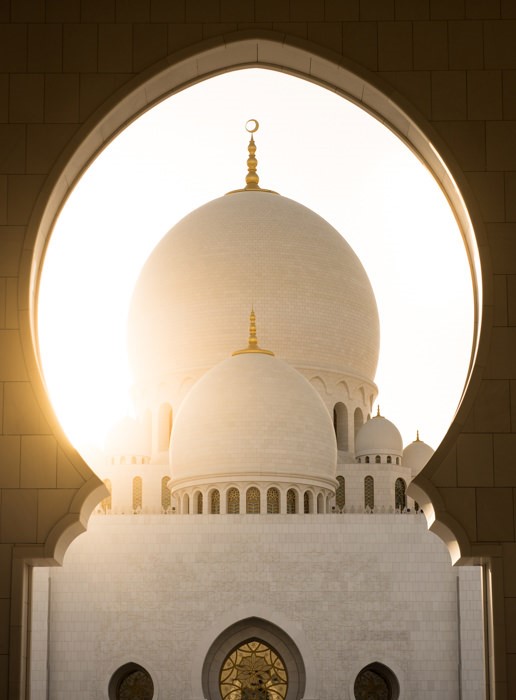 Look at that! Sometimes the simplest tweak can make a huge difference.
All pro photographers process their images. It's at least half, if not 80%, of the overall art in photography… and the single greatest leap you can make to improve your skill.
Adobe Lightroom is the industry favorite for this job. I don't get a commission for saying that. It's the truth -- it's an incredibly powerful tool, and I know you're going to love what it can do for your photos!
Here Are Three Things You Should Know About
Lightroom Before You Read Further:
It's easy to learn. Follow Bonnie's method and you can master Lightroom in a single weekend! She's already done the hard learning and legwork and has broken everything down into easy-to-follow steps for you. Trust me, you don't need any technical skills to do this.
It's super-fast. Often, all it takes to add a professional polish to your photos – and sometimes COMPLETELY change the way they look – is just 2-5 minutes. A few clicks of a button – and that's it.
It's FUN! Editing and processing your photos is a big part of the creative process and Lightroom makes it so easy that it's fun. It's fun to see your images go from a dull gray to vibrant with color. It's fun to process your pictures and then put them on Facebook and get dozens of compliments. And it's even more fun to see your photos on the cover of a glossy magazine, in a frame at a local department store or on a billboard you pass on the way to work… all thanks to Lightroom.
Whether you want to sell your photos as stock, fine art, directly to clients, or in glossy magazine spreads… using Lightroom is the single, biggest step you can take to get there.
Give me just twenty minutes of your time and you'll see how…
Quick & Simple Fixes Add BIG Impact
Here's what I mean…
Take a look at just a few simple things Lightroom can do that can make a world of difference to your photos:
Quickly turn hazy skies blue: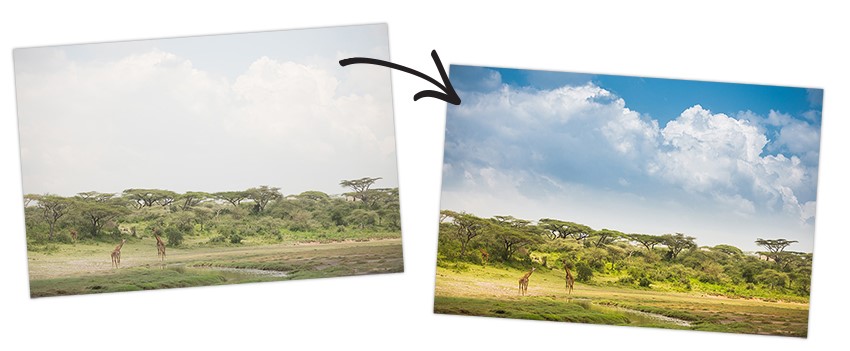 Transform dull color shots to black-and-white photos with "texture":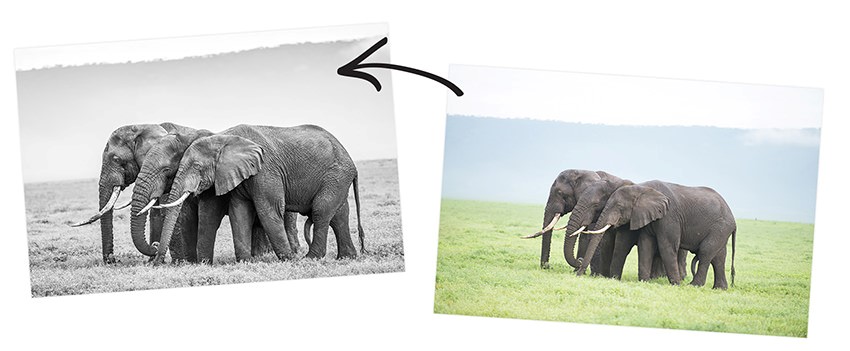 Eliminate blemishes and wrinkles and make eyes shine in your portraits: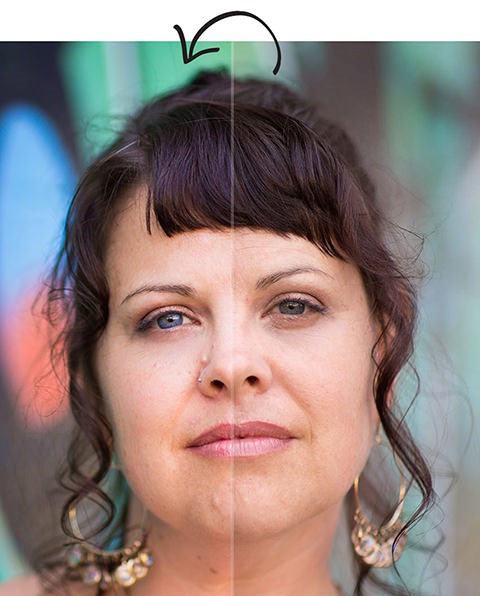 Bring out missing colors and details: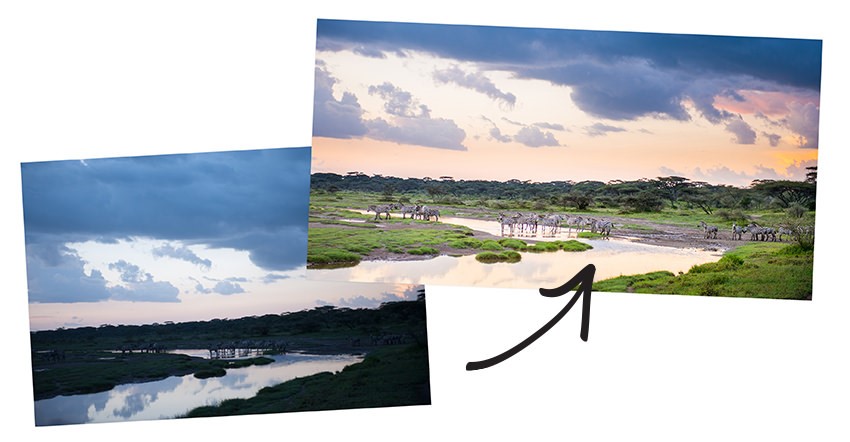 My biggest frustration with classes you find online is that they're long, boring, and full of stuff you don't need… and by the time they get to the end, I've already forgotten what I learned at the start.
That's why Bonnie created something for you. It's a 4-part system that gives you the base you need to become a master in Lightroom… but it also includes something special…
A Complete Resource Library of Short And Snappy Videos
Whatever it is you need to know – whether it's whitening teeth, removing blemishes, straightening a building, or adding a creative color effect – now you can go straight to that video, watch for a few minutes, and be on your way.
And I've got a special bonus for you, too: Bonnie makes a good chunk of income taking headshots and family photos for clients in and around her hometown… and you'll get all of her people-editing tips in this program, too… so you can start to deliver professional-looking shots… and charge what you're worth!
Plus, you'll get special videos that show you how to add creative effects like sun flare…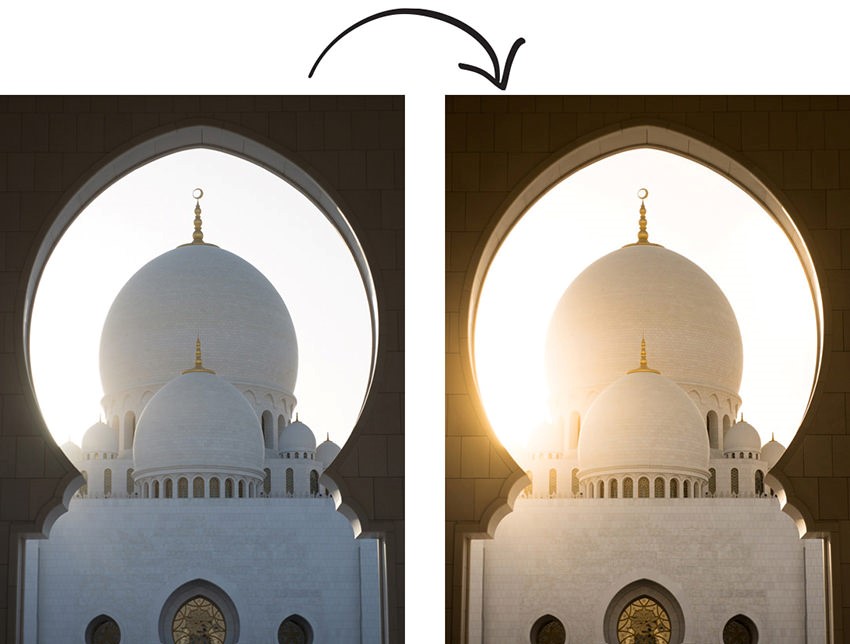 Creative portrait techniques that turn an average shot into art: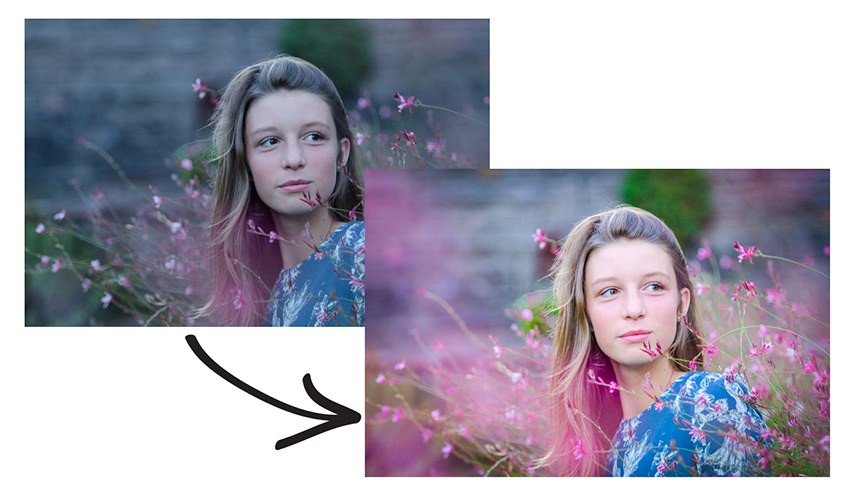 And tips you need for selling your photos as stock or fine art, like how to eliminate backgrounds to make a snapshot into a wall-worthy shot: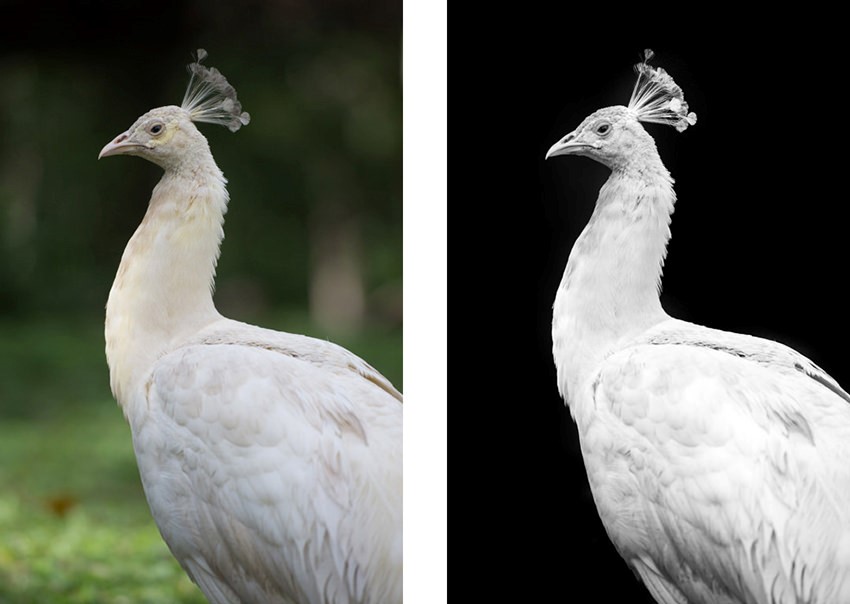 Or how to turn your background completely white for stock: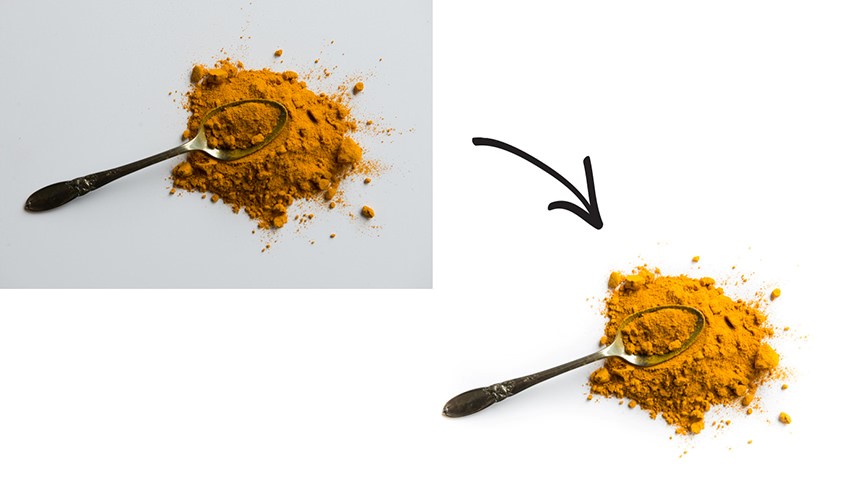 MASTER Lightroom Once And For All… The Fun Aand Simple Way
You can SO do this… and when I say "easy," I mean it.
Imagine turning your OK photo into something that really pops in a few minutes—something you can sell to magazines, newspapers, online stock agencies, and as fine art… and that friends will want to frame and display on their walls.
This is your chance to:
Get those photos currently gathering dust on your computer out into the world for sale …
Polish them up so that they look like they were taken by a professional…
Create your own rewarding income with a skill you'll have for life…
Learn from Bonnie how you can "add the wow" to even the most average of snapshots… and still keep it saleable as stock or fine art…
Gain confidence in your photography…
Organize everything so you can find your favorite photos in a flash…
Learn to LOVE the time you spend in Lightroom and let your creativity lead you to more earnings!
"One thing to know is that complete beginners can take this course and go from knowing nothing to being fully confident using Lightroom"

– Bonnie.
Warning – This Can Get Addictive! It Will Change Your Photography Forever…
Once you've seen what Lightroom can do, you'll never hesitate to snap a photo again, even if the lighting is not perfect, even if the colors look muddy, even if you just aren't sure.
Reader-turned-writer-and-photographer Mark Andrews has traveled the world exploring the cuisine of Bali and Laos… museums and craft breweries in Beijing, China… and taking a six-day guided walk in Japan, with accommodation and food all covered. He does this camera in hand, earning paychecks and complimentary trips along the way.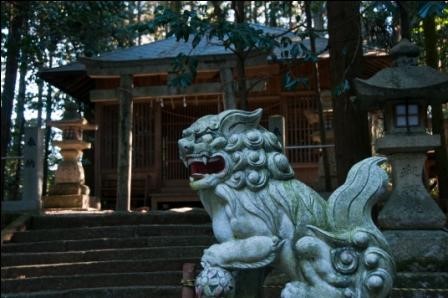 Mark's Japan trip would have cost about $2,735 if he paid for it himself.
Mark was already using Lightroom when he signed up for our training, but has this to say:
"As I wasn't new to Lightroom I was actually a bit concerned that it would be too basic. I shouldn't have worried, I still managed to learn a lot!
"I think for me the beauty of Lightroom is taking a picture which was exposed badly, yet otherwise good, and turning it into something usable. It really gives me a kick to see something published and think, If only they'd seen what it looked like before.
"Photography for me is about playing, trying to tell a story in an interesting way. It's about trying to draw in someone's attention."
The Thing I Like Most About Bonnie's Lightroom 101 Program – That You Just Can't Find Anywhere Else
Bonnie is a self-proclaimed Lightroom addict but that's not why I like her new program so much.
Outside of "making things pretty," Bonnie is also incredibly creative. I had no idea you could do half of these things in Lightroom. Leave it to Bonnie to figure out this stuff!
I love that the techniques in this course always have saleability in mind. This isn't just about creating pretty photos. It's about making your images saleable, too, which is a big part of why joining Bonnie's Lightroom 101 course is such a no-brainer - it can more than pay for itself in one or two photo sales.
Plus, Bonnie has a knack for breaking big things down into small, easy-to-follow steps. I go to her for all my Lightroom questions.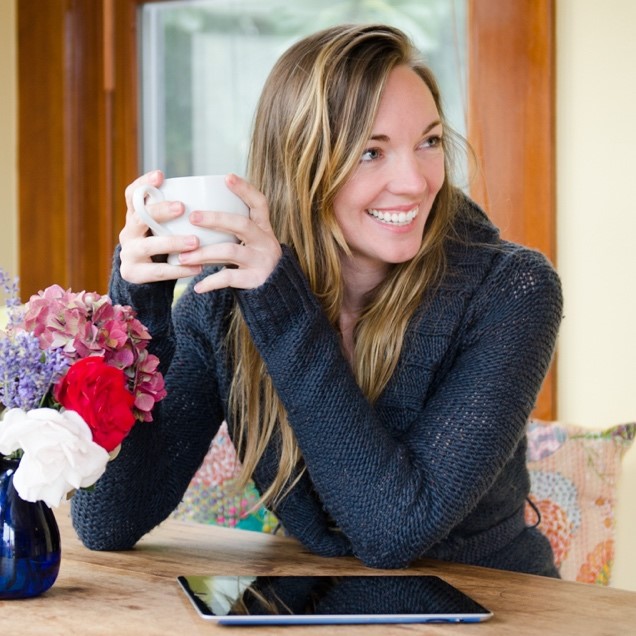 "I know, for some folks learning all the ins and outs of Lightroom can be a bit overwhelming, especially if you're not tech-savvy. That's why it ends up being the last thing you master. But that's crazy! You need to edit your photos if you want to sell them and you want people to swoon over the photos you post on Facebook.
"I've done all the hard work for you. I've used my years of hands-on experience with Lightroom to create something different – a new, quick and easy way to learn this key skill… Something I know you're going to love because I wish this was available when I started out." – Bonnie.
As the creator of our Breakfast Stock Club, Bonnie regularly leads workshops and overseas photo expeditions. She spends her spare time photographing weddings, headshots, flowers, food, families, and travel. And it's become a nice side income for her.
Students who've taken courses with Bonnie say she is nothing short of amazing. She simplifies every step so you come away knowing how to navigate Lightroom like a pro.
"Bonnie is a great teacher, very knowledgeable, with a calm voice, and consistently good advice. "

– Janet J.
"Bonnie is very personable, informative with a love for what she does and the willingness to share her knowledge and expertise."

– Sylvia H.
" Bonnie is well-organized, a good teacher, and sincerely encourages people. She's friendly, warm and funny, and a joy to be with. "

– Diana R.
Everything You Need to Turn Your Photos Into A Fun, Rewarding Income
Professional photographers use the magic of Lightroom to transform their images. It's the number-one reason your photos don't look like theirs. But you can catch right up with them today.
With Bonnie's Lightroom 101 program, giving your photos that professional edge will be easy… fun… and something you look forward to!
And my favorite part:
-- It's broken down into an easy-to-follow system with small videos, so you can find exactly what you need, when you need it.
You're going to get the whole kit and caboodle, everything you need to know to create stunning, saleable images – all in one place with more than 50 videos to guide you step-by-step through every tool and task in Lightroom…
Here's just a sample of what Bonnie covers:
How to import photos from your camera, add keywords, protect your photos with copyright information, and how to add contact details so an editor can find you if your photos ever get separated from your article…
Removing blemishes and wrinkles from portraits. How to take out unwanted words or logos and eliminate "red eye" from your camera flash…
Whitening teeth, softening skin and increasing or accentuating color…
How to turn hazy skies blue and add drama to simple images…
One-click tricks for straightening buildings and eliminating strange colors that lenses sometimes leave behind…
The best way to create black-and-white photos with lots of texture…
How to "Split Tone" your images for artistic, film-like effects…
The art of processing for different sales markets – the difference between processing for stock, editorial, and fine art. Now you'll have a resource library you can refer back to whenever you want…
Plus, you'll get an easy "workflow" you can follow that will keep you organized and on-track. You'll know where all of your photos are and how to find them quickly…
…and you'll learn how to export them for print or for email to a buyer.
Thanks to the sections on staying organized in Lightroom, you'll be able to find your photos fast and easy from now on. No more hunting!
And as a special gift, you'll get…
Amy M. loves selling her photos for an income… this fun photo of her daughter sold for $250 and was used by Staples and Readers Digest UK -- "I love photography for its versatility. It is creative, fun, and portable," she says.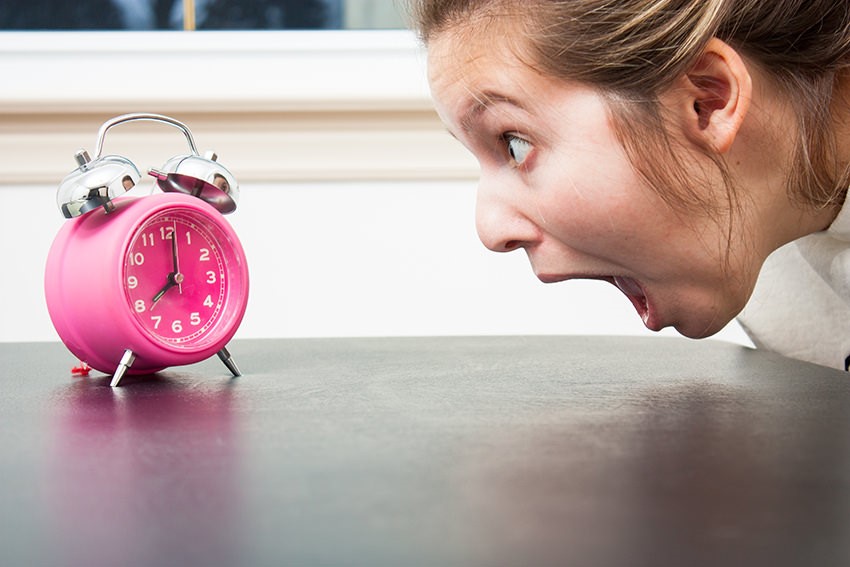 And like all good photographers, Amy uses Lightroom:
" I try to shoot the best possible photo straight from the camera, but even the best photos can be improved with a few minor adjustments in Lightroom. A good shot can become a "Wow!" shot in Lightroom, and the ones I didn't get quite right can usually be redeemed with a few more adjustments."

– Reader turned photographer Amy M.
** FAST-REPLY BONUS **
$265 value of bonus guides and videos on how
and where to sell your fabulous new images
For a limited time only -- when you click on the order form below -- you're going to get Lightroom 101 at a big discount. But you're also going to get something worth far more than the cost of Lightroom 101, too…
You're going to get an inside look at Bonnie's $12,000 headshot, stock, and travel photography business.
Bonnie doesn't practice photography full-time. She has a full-time job writing and editing here at Great Escape Publishing.
But she loves to take pictures. So if this is you, too – and you're pressed for time – her side-income plan is perfect.
It's exactly how I'd recommend getting started with your camera. It's a way to build up cash before you retire or quit a day job. It's easily accomplished in whatever spare time you have. And it's the perfect complement to Lightroom 101 because it's FUN and learning Lightroom is half (if not more) of the skill you need to start today!
In this bonus package, you'll get…
Bonus #1: How to process, edit, pick the best photos and upload them for stock.
Bonus #2: Magazines Made Easy -- How to sort, organize, and process the images you need to send to an editor.
Bonus #3: Edit, export and print fine-art photos for sale.
Bonus #4: Bonnie's video presentation on How to Make $500 Next Weekend Taking Photos.
Bonus #5: And our insider's guide to 17 of the Best Places Where You Can Sell Your Photos Today for $25- $1,500.
Because they're packed with specific information on selling your photos – all presented in a clear, organized fashion that you won't find anywhere else -- these bonuses are valued at $265 (that's how much I would charge if I sold them separately).
But the full package comes
absolutely free

for you today when you join Lightroom 101.

Click Here to Take Your Photos Skills
to the Next Level With the New Lightroom 101 Program
" Lightroom 101 is an excellent program for those photographers wanting a complete package of material for learning and understanding Lightroom. The videos clearly show how to work through the photo editing process in a thorough and understandable way. Bonnie's explanations are rich in detail in one program that benefit photographers wanting to learn all that Lightroom can offer to edit and produce high-quality photos"

– Jenny P.
" I bought Lightroom a few years back but could not really get to understand it. Now after I started using Lightroom 101 and listening to Bonnie explain I have no problems with it. I often wonder how I managed without it before. Thanks, Bonnie, for teaching me."

– Helge J.
" It's a great way to learn the basics of photo editing and post processing. Completion of the Lightroom 101 course will help you to improve your photos dramatically." "

– Chris S.
Do This One Thing Today And You'll Change
Your Photography Forever…
Taking this program is the one single biggest step you can take to jump ahead to exceptional photos… and a fun income that will put the zest back in your life.
We could easily charge $29 for each of these videos separately. And it'd be well worth it considering you could easily make that back in a single sale – and refer back whenever you needed.
As of this writing there are more than FIFTY video lessons in your library (and growing all the time). But at $29 each that would mean $1,450 for this whole collection… and you'd be left to download each one individually and organize them yourself.
Lightroom 101 brings you all the videos you need to add the "wow" factor to your photos… organized in one easy-to-navigate place.
So order today with a FAST-REPLY BONUS… pay only $696 $499 … and get a $265 value of bonus guides, too!
Pay only $696 $499 this week when you click here!
You're going to get everything you need,
all in one place:
More than 50 video sessions, with lifetime access to all the material. Learn at your own speed, jump ahead, or come back for a refresher anytime you want…
The confidence you need to get out there, have fun, take lots of photos, and know you can make quick and easy fixes later.
Powerful editing techniques to transform your photos into "wow shots".
A special gift pack valued at more than the cost of this program.
Plus, as Lightroom introduces new developments we'll add Bonnie's videos on those, too – at no extra charge.
And it's all GUARANTEED
If you don't completely love Lightroom and how your photos look using this library, just let us know within 30 days and we'll buy the Lightroom training program back from you and give you a full refund.
"Lightroom is an extremely powerful tool for photographers. Beyond having all the processing tools a photographer needs, it has a great cataloging system that lets me group, sort, rank, and keyword images. Not only is Lightroom easy to use, it's just plain fun. I find myself choosing to look through and edit pictures using Lightroom in the evenings to relax and unwind instead of watching TV or other mindless tasks. You're going to love what you can do once you master this skill"

– Pro-photographer Danny W.
This week only, you'll get a massive discount when you click here
One weekend - one skill…
That's all it takes.
Click on the discount links above and fill out the application. Everything is online so you'll get a login for the library by email and you can log into it any time, day or night.
Just don't wait. As with all our sales – they don't last. $265 worth of bonuses and a big discount are here.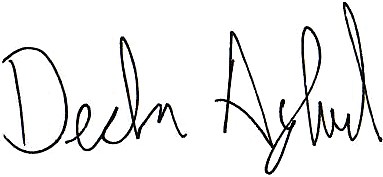 Declan Aylward
Editorial Director, Great Escape Publishing
P.S. Bonnie is a great teacher. I love that there's no fluff in this program. You can find everything you need fast and easy.
It's an investment that can pay off for years down the road, too. You buy the collection this year, and, even if the value goes up next year, you will continue to get all the new videos at no additional cost. This is essentially an evolving library – always stocked with the best tools for editing your images whether it's this year or five years from now. And once you've fully paid for your membership, you won't pay a cent more! Just make sure you get in today at the best price…
Join here today, and get a value of
$265 in bonuses.
Adobe and Lightroom are either registered trademarks or trademarks of Adobe in the United States and/or other countries.